Summary: Spotty chance of rain today. Then things clear up. Next chance of rain Wednesday.
Last night was a bit rough and active while the weather moved through the area last night. At one point the entire county was under a severe thunderstorm warning. Northeast and southwest of Centerville seem to have gotten the most significant weather, as some trees were reported down by law enforcement on Highway 100 near Beaverdam Road and Highway 230. That matches well with this tweet we received.
@NashSevereWx The wind near Centerville is intense, as is the lightning.

— Benne Ferrell (@feathersong) April 20, 2015
Here's what the radar looked like at that time.
12:21 AM – Storms waking people up are through half the county now. Bon Aqua, Lyles, Wrigley, Littlelot up next. pic.twitter.com/t62Lk7okLT

— Hickman Severe Wx (@HickmanSevereWx) April 20, 2015
No hail was reported with these storms, but the Severe Thunderstorm Warnings were mainly for 60+ mph winds that can cause destructive damage. It was a busy night, but we are thankful there wasn't much more damage than what was reported.
Today we could see hit and miss showers, but very small in nature.
Today we are expecting 20% chance of showers with temperatures slightly cooler than they have been with a high temperature of 65 degrees, thanks to the cold front that moved through overnight and woke all of us up. Winds will be a bit gusty today from 15-20 mph out of the west.
Here's a glimpse at what the HRRR is saying for today. While this particular run is for 1pm today, this is how our chances look for most of the daylight hours.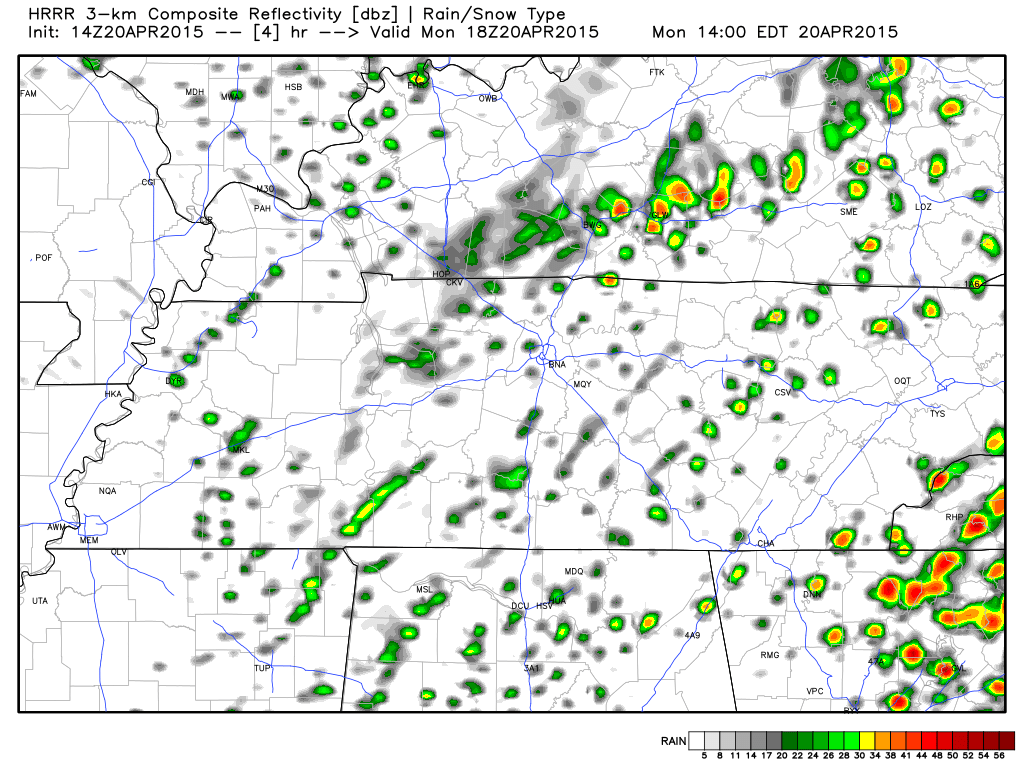 Tonight's low will drop to about 44 degrees under mostly cloudy skies and winds at about 5 to 10 mph.
Tuesday looks dry and perfect.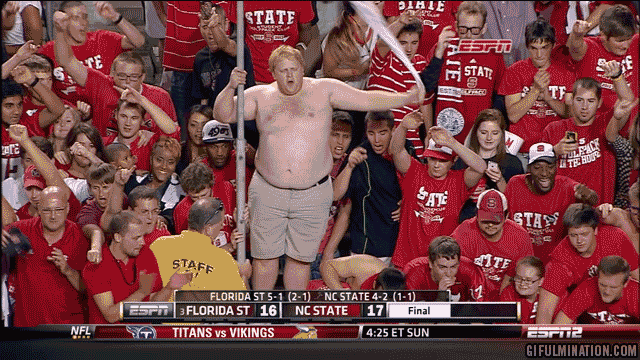 Tuesday is shaping up to be a really nice day, with no chance of rain, 69 degrees for the high under mostly sunny skies. Winds are just slightly gusty at 5 to 15 mph out of the west south west.
Tuesday night the low will drop to about 51 degrees under mostly cloudy skies. Winds turn out of the south southwest at 5 to 10 mph.
Wednesday sees the return of rain chances.
Wednesday we see a 30% chance of rain and thunderstorms with our high temperature reaching about 71 degrees.
Extended Forecast

From weather.gov