Summary: Slightly cooler temperatures through the week with a non-severe chance of rain Tuesday. Warmup comes for the weekend.
Updates are now back on the site! Aiming to do these Monday, Wednesday, and Friday, and more often should the weather warrant more updates. 
Temperatures are expected to be in the low 50's for highs and the low to mid 30's for lows for most of the work week. Nothing special weather-wise other than a chance for rain on Tuesday.
Monday – High 51* Low 33*
Mostly sunny, with winds out of the north northeast at 5 to 10 mph.
Tuesday (Valentine's Day) – High 53* Low 36*
Rain moves in at daybreak with showers throughout the day. NAM4 model simulated radar shows hit and miss rain throughout most of the day, with slightly heavier rain moving in around 8pm.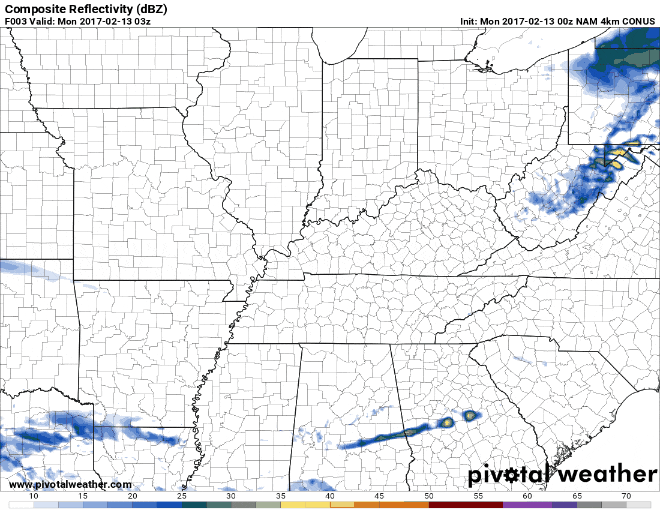 Not anticipating this rain to be severe.
Wednesday – High 50* Low 29*
Tuesday's rain tapers off leaving us with a few degrees colder air under mostly sunny skies. Winds will be straight out of the north at 5 to 10 mph.
Where's winter?
It's been an unseasonably warm winter, and it won't let up for at least the next week or so. Here's the NWS temperature outlook, which plants us in the 70% or more chance of "warmer than average" temps.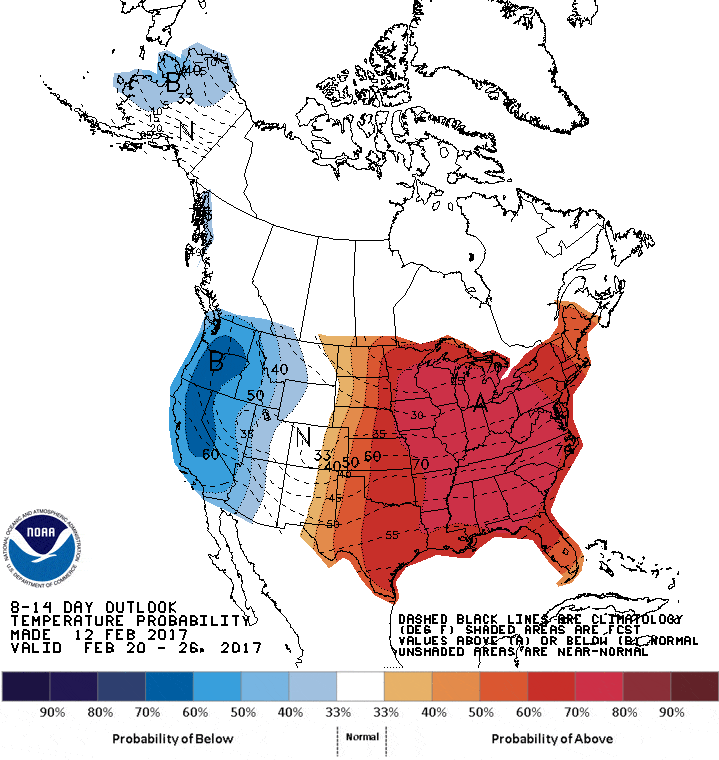 Just be thankful you don't live in Oklahoma, where it was in the 90's (yes, ninety's) this week.
For those wanting snow for school snow days, you have a better chance of your school system closing due to illness these days than snow.
Extended Forecast