Summary: Very wet week ahead. Rain chances every day including July 4th festivities.
Today, it will be partly sunny with a 30% chance of scattered thunderstorms. Our high temperature will be about 84 degrees. Winds will be out of the west southwest at 10 to 15 mph.
Spotty showers will develop in Kentucky and come down in bands through Tennessee. Below is HRRR's simulated radar loop from 8am to 10pm today.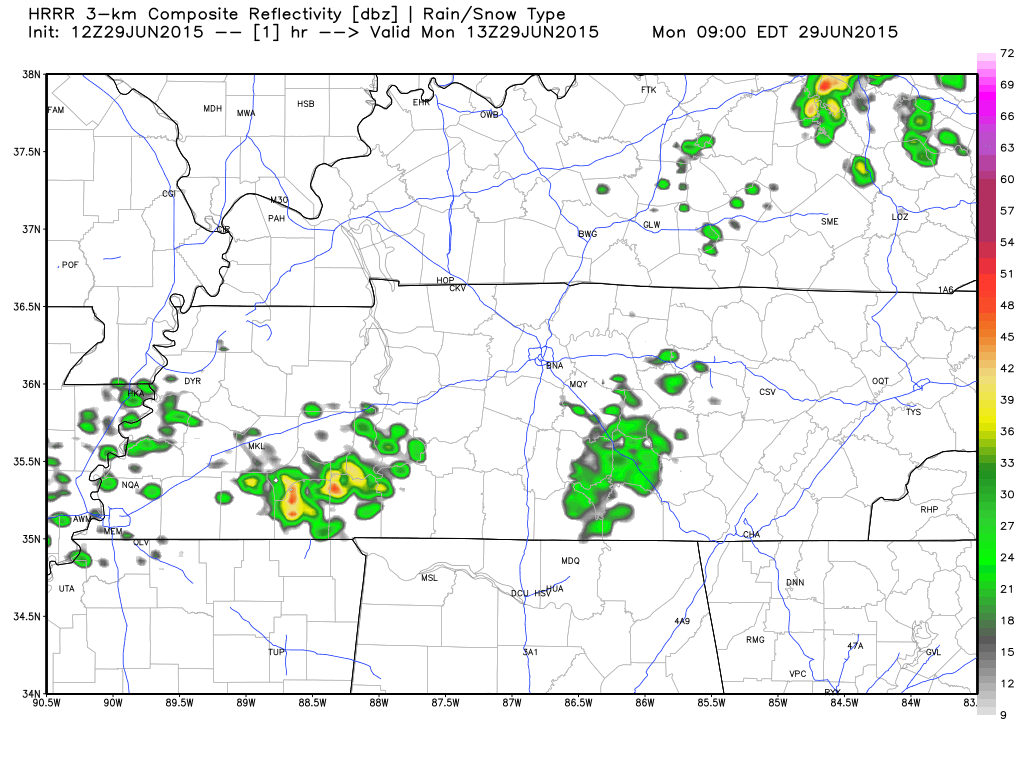 The best chance of rain looks to be along a small line that could impact us around 7-8pm tonight according to NAM4.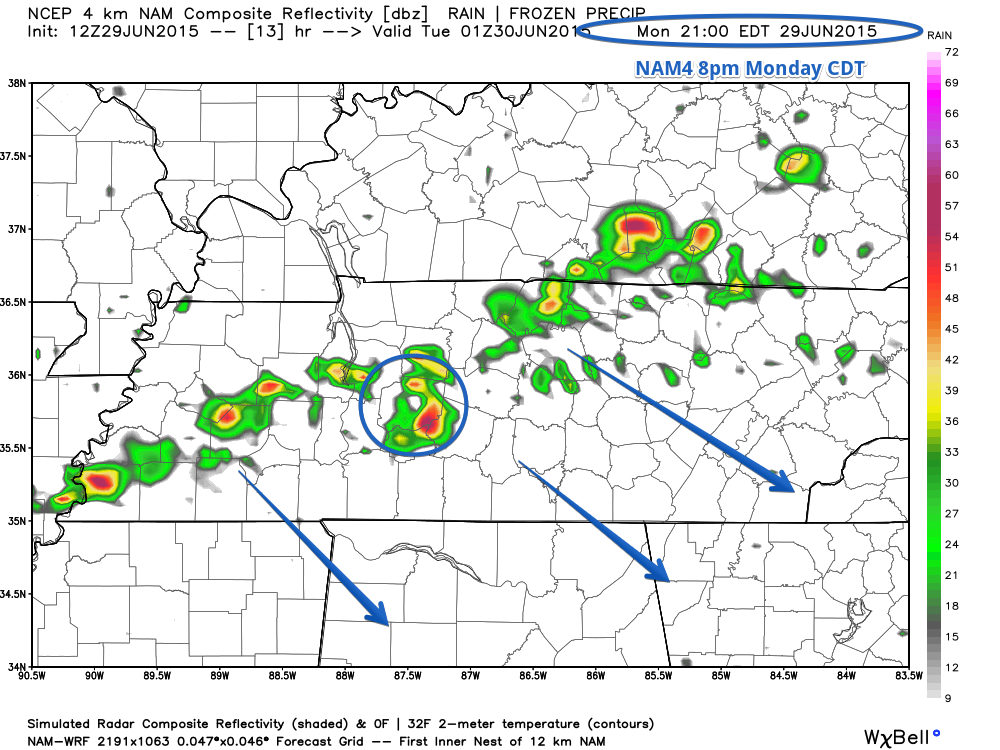 Tonight, rain chances go up slightly to 40% chance as our low temperature dips to about 68 degrees. Winds will be out of the south southwest at about 5mph.
Tuesday
Tuesday brings partly sunny skies while rain chances continue to climb a bit to 50% chance of showers and thunderstorms with our high temperature reaching about 86 degrees. Winds will be out of the west at 5 to 10 mph.
Pop up showers likely to develop, giving us that 50/50 chance of rain.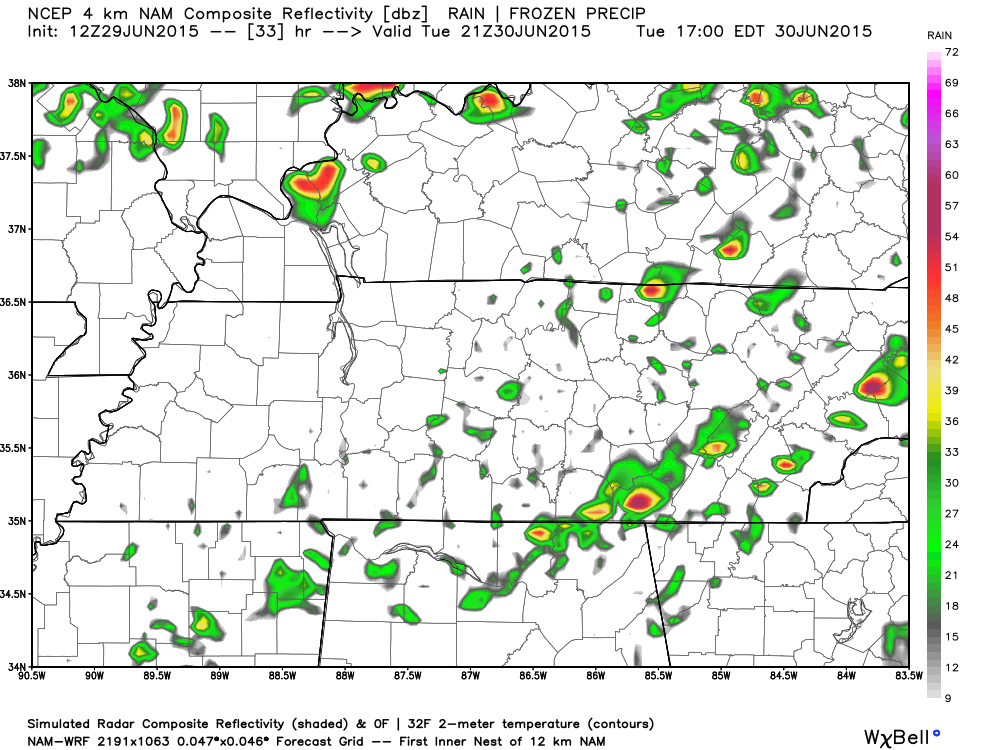 Another small line of showers and storms will try to push in overnight Tuesday into Wednesday.
Tuesday night rain chances drop to 30% with an overnight low of 68 degrees.
Wednesday
Wednesday will be mostly cloudy with a 60% chance of rain and thunderstorms. High temperatures will reach about 84 degrees.
The GFS model shows some precipitation Wednesday evening (Hickman County circled in red).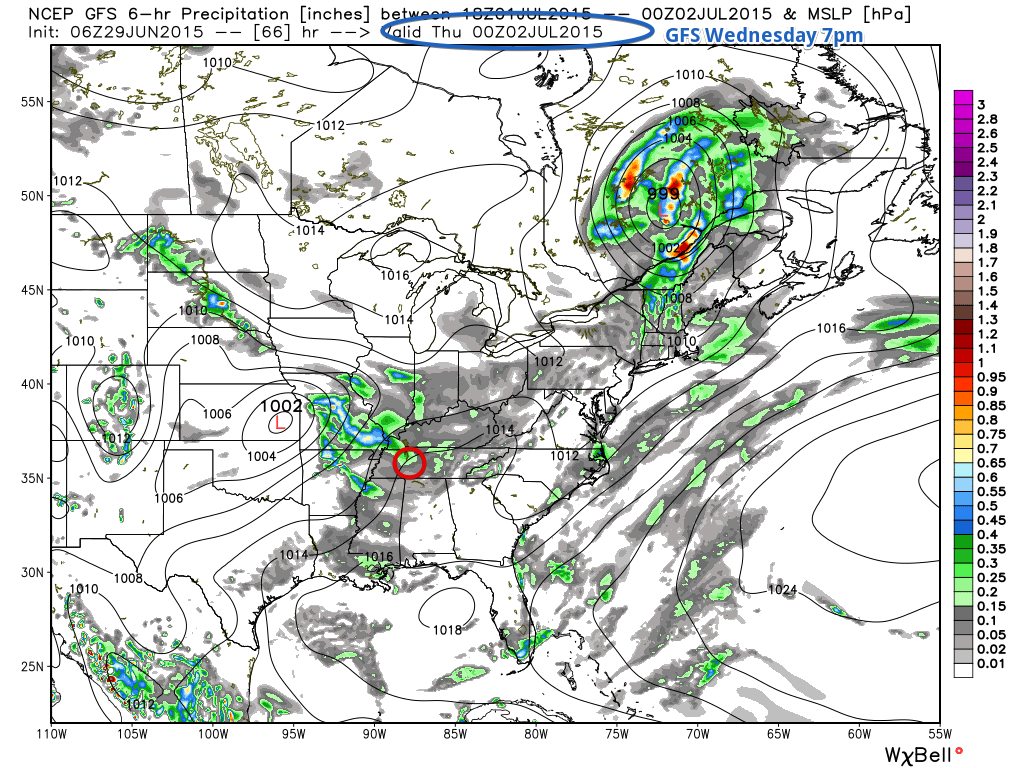 Temps fall to 69 degrees Wednesday night as rain chances increase to about 70%.
Thursday
Thursday looks to be the wettest of all the days as a low pressure center moves in close to Tennessee. It will be cloudy with a 70% chance of rain and thunderstorms throughout the day. The high temperature will only reach about 82 degrees.
According to GFS, we will see most of our rain in the morning possibly, with up to an inch of rain falling in the early morning up to 7am. Hickman County is circled in white. You can see the low pressure center with all of the red coloring indicating lots of precipitation.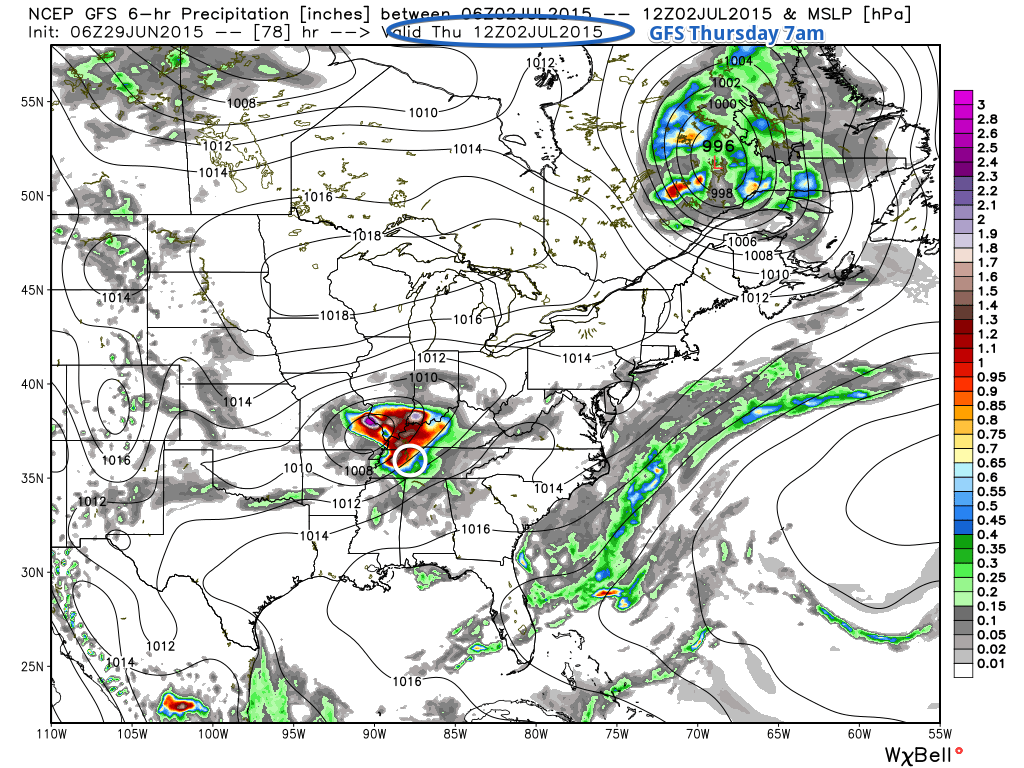 Rain still sticks around Thursday night at a 60% chance of rain and thunderstorms and a low temperature falling to about 68 degrees.
Friday
While most of us will be off on Friday, we likely won't be able to do much outside with a 60% chance of rain and showers. Our high temperature will reach about 83 degrees.
Scattered showers will be about giving us some rain chances in the afternoon on Friday, according to the GFS model.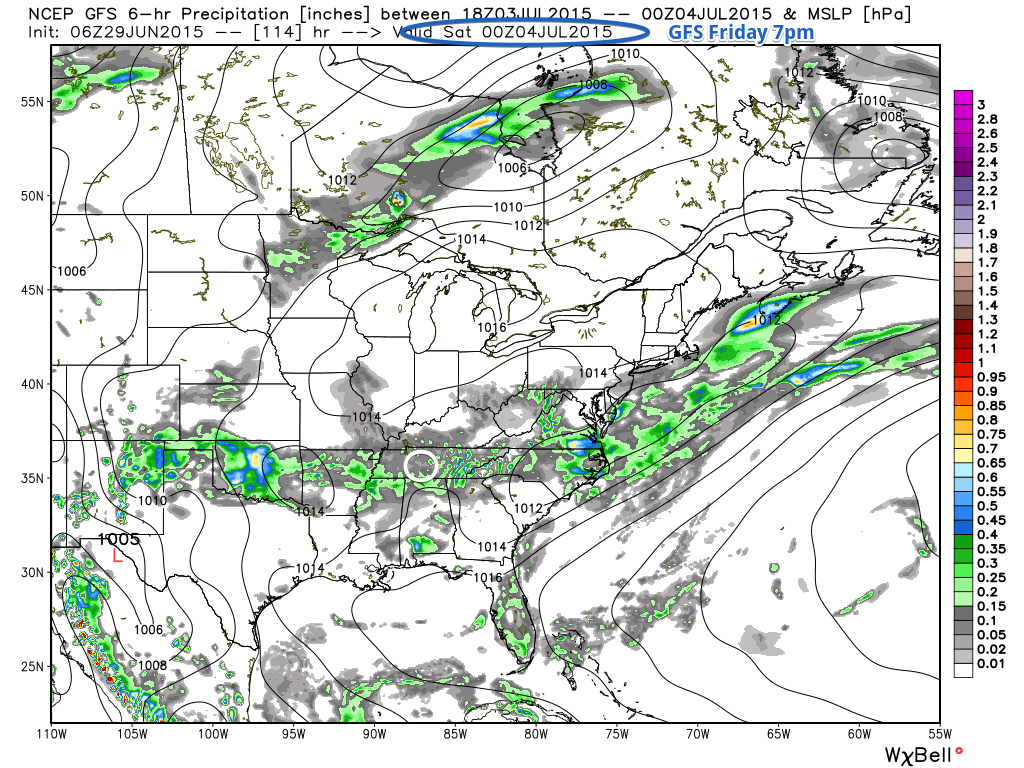 Friday night rain chances still remain high at 50% with an overnight low of 68 degrees.
Saturday July 4th
Unfortunately the rain chances don't end here. A 50% chance of rain and showers will be around for our Fourth of July celebrations and fireworks. Temperatures will be pleasant at around 84 degrees.
It likely won't rain all day on Saturday, but there may be enough of a chance to dampen some outdoor activities. The GFS model does leave some hope that fireworks and outdoor activities might continue without too much rain, but still keep in mind it is a 50/50 shot.
Public Service Announcement: Have a plan B in case of rain at any point of your Saturday.
Saturday night sees rain chances lighten up to 30% chance of rain with an overnight low of 70 degrees.
Sunday
Rain chances return to 50% chance of rain for Sunday with a high temperature near 87 degrees.
How much rain?
Over the next seven day (today through next Monday), models are predicting that Hickman County should see about 3.5 inches of rain from all of this rain coming through.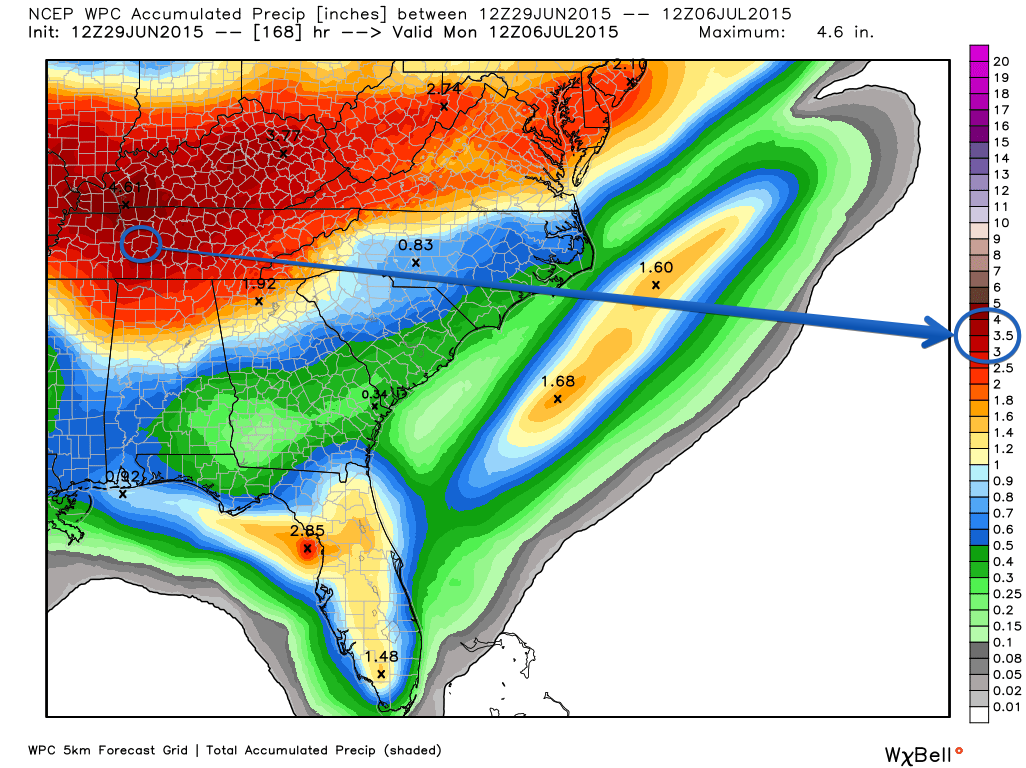 Will we see a return of a heat wave?
Not likely. Thankfully GEFS is showing that we may peak at 93 degrees on July 7th, but other than that very tolerable temps are in store for us. This model could change between now and then, but otherwise, the temperatures look to be around normal.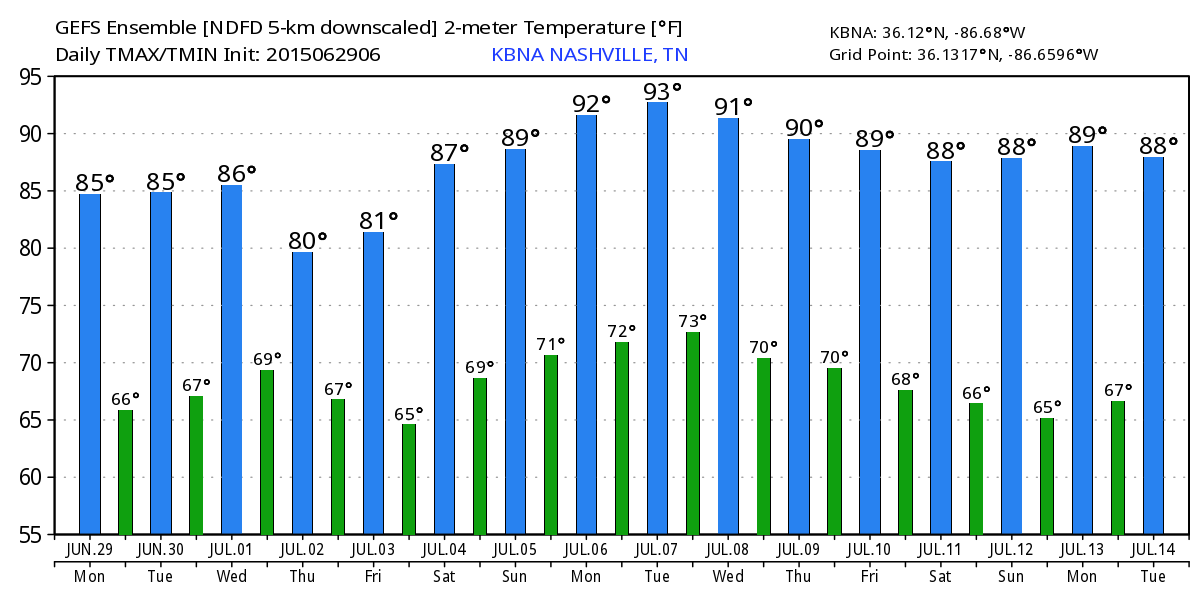 Extended Forecast

From weather.gov