Summary: Cooler temps than we are used to. A couple of nights this week will get below freezing. Chance of rain today and Friday.
We go from thunderstorms and a squall line to snow in 48 hours. That's a Tennessee spring for you. Thankfully this week looks to be much calmer.
Monday – High 46* Low 33*
Today, we have rain pushing in from our west to give us a 80% chance of rain today and lingering chance into tonight. Our winds will be out of the south at 5 to 10 mph, shifting to be from the west during the afternoon.
Here's the HRRR model simulated radar for rain today. Note that it appears the snow may stay north of us.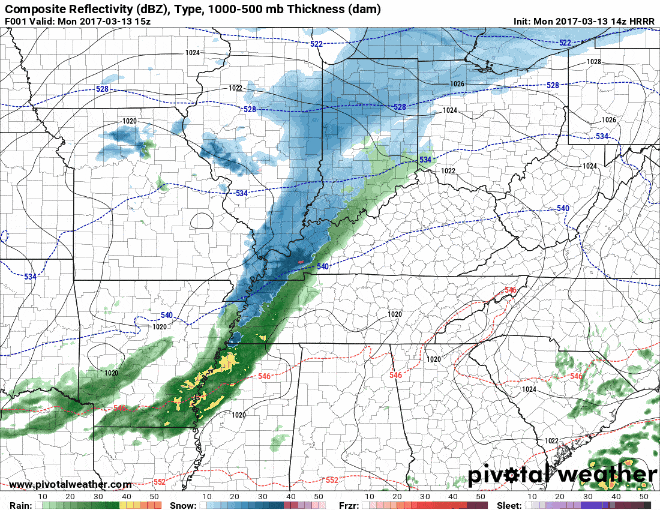 Tonight, a 40% chance of rain, mainly before 1am. Winds will shift to come out of the north northwest at 5 to 10mph.
Tuesday – High 40* Low 21
Rain moves out in the early morning hours, leaving us a mostly cloudy and very cool Tuesday with a high about 40 degrees. Winds out of the north northwest at 10mph.
Overnight Tuesday temps take a tumble with a low of 21 degrees. Clouds will be around in the early part of the evening, but give way to clear skies. Winds out of the north at 5 to 10mph.
Wednesday – High 39* Low 23*
Wednesday will also be a pretty chilly day. Sunny, wth a high near 39 degrees. Winds out of the north at 5 to 10 mph (so it will feel colder).
Wednesday night brings a few clouds, with a low temperature of 23 degrees. Winds calm down overnight.
End of workweek and weekend
Rain chances return on Friday as a gradual warm up starts on Thursday. Rain will be moved out by Saturday morning, leaving us a warmer and dry weekend to feel like spring again.
Extended Forecast