Summary: ENHANCED category for severe weather. Expecting a squall line to move through between 5pm and 11pm.
Today's post will only focus on today's severe weather potential. Updates will be posted as needed.
Latest thinking: a squall line will develop and move through Middle Tennessee late afternoon to evening. Damaging winds the main threat, with a few isolated tornadoes possible embedded in the squall line.
The Storm Prediction Center has us currently outlooked in the ENHANCED category for severe weather from 6am Tuesday through 6am Wednesday. This is a 3 on the scale of 0-5.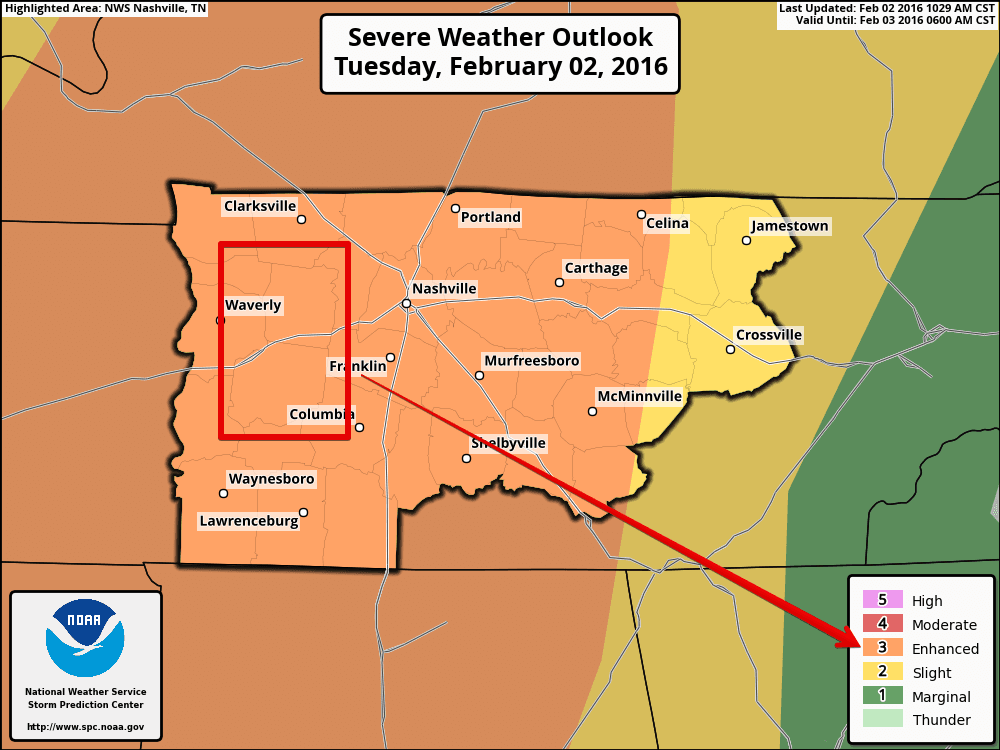 With the ENHANCED category comes different probabilities of hazards.
The SPC has us inside of the 10% or greater chance of seeing a tornado within 25 miles of a point. The hatched area means we have a 10% or greater chance of seeing a strong tornado (EF2 or higher) within 25 miles of a point. Below is a very zoomed in look to show the county outlines.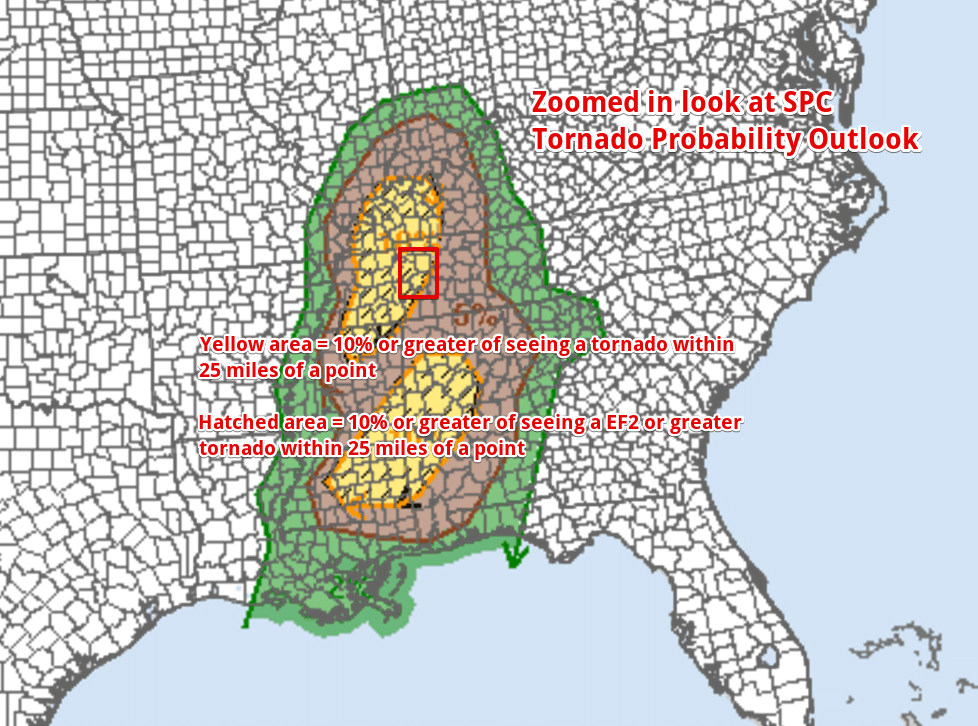 They've also placed us inside of a 30% chance of seeing damaging winds in excess of 58 mph or greater within 25 miles of a point. This is the greatest threat for us with this storm system, as the damaging winds can be as bad as a weak tornado.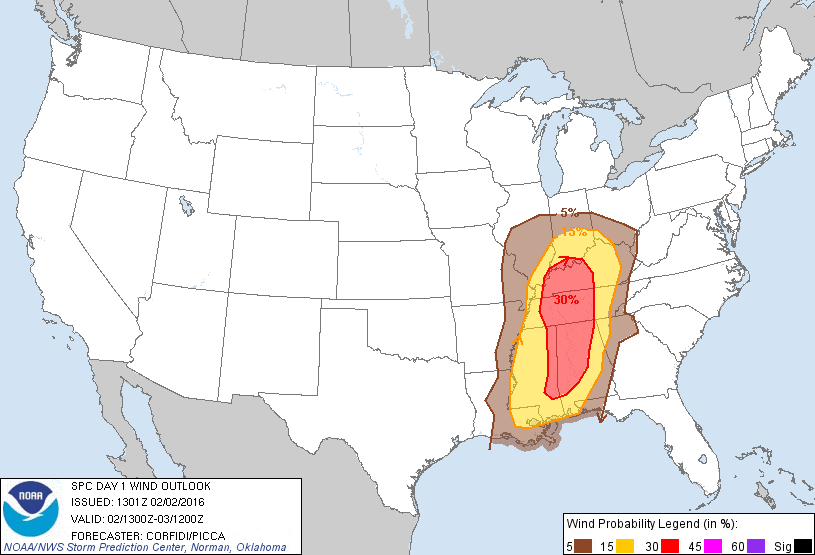 We don't expect this to be a big hail event, and so the SPC has us within a 5% chance of seeing hail of one inch of diameter or more within 25 miles of a point.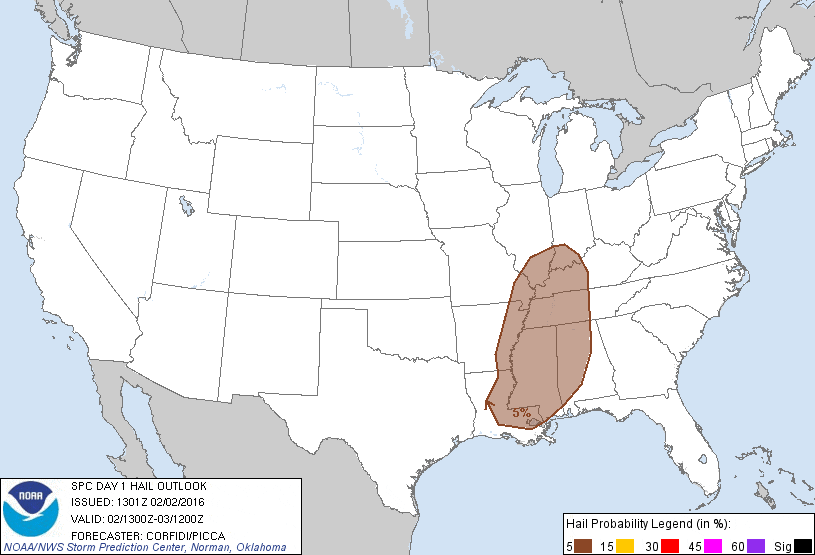 Because of the wind threat, we're currently under a WIND ADVISORY until midnight tonight. This wind advisory is mainly for the before the storms wind we are currently seeing, which is gusting to around 35 mph.
Models
What are the models predicting will happen? Let's walk you through them.
For brevity and understanding: the HRRR model is a rapid refresh model, so it updates every hour, and shows us predictions for every hour of the next 15 hours. The NAM4 updates four times a day, but shows predictions for every hour up to hour 30.
DISCLAIMER: Do not take these models as exact ETAs or gospel truth. They are simply best predictions.
2pm Tuesday
Here's the HRRR for 2pm. It doesn't show quite a line forming, and shows a little slower timing than the NAM4 (below).
Here's the NAM4 for 2pm showing a few spotty showers (non severe) ahead of the line trying to get its act together to our west.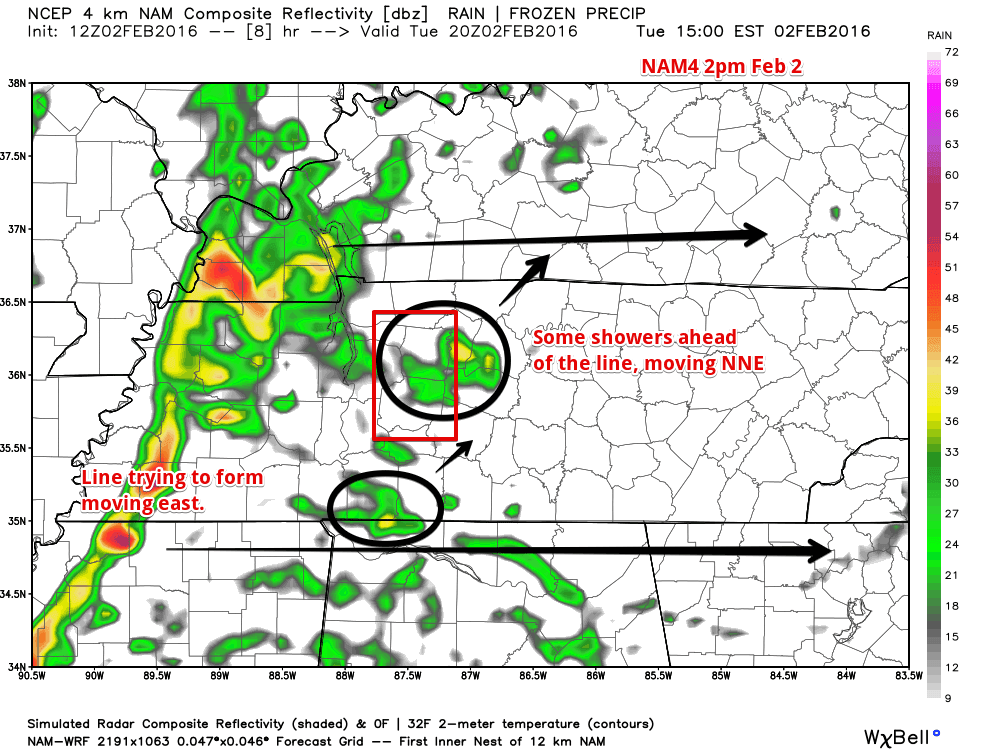 5pm Tuesday
The HRRR shows the line starting to form at the Mississippi River at 5pm today, with some scattered storms ahead of it. If this happens, it will help stabilize the atmosphere.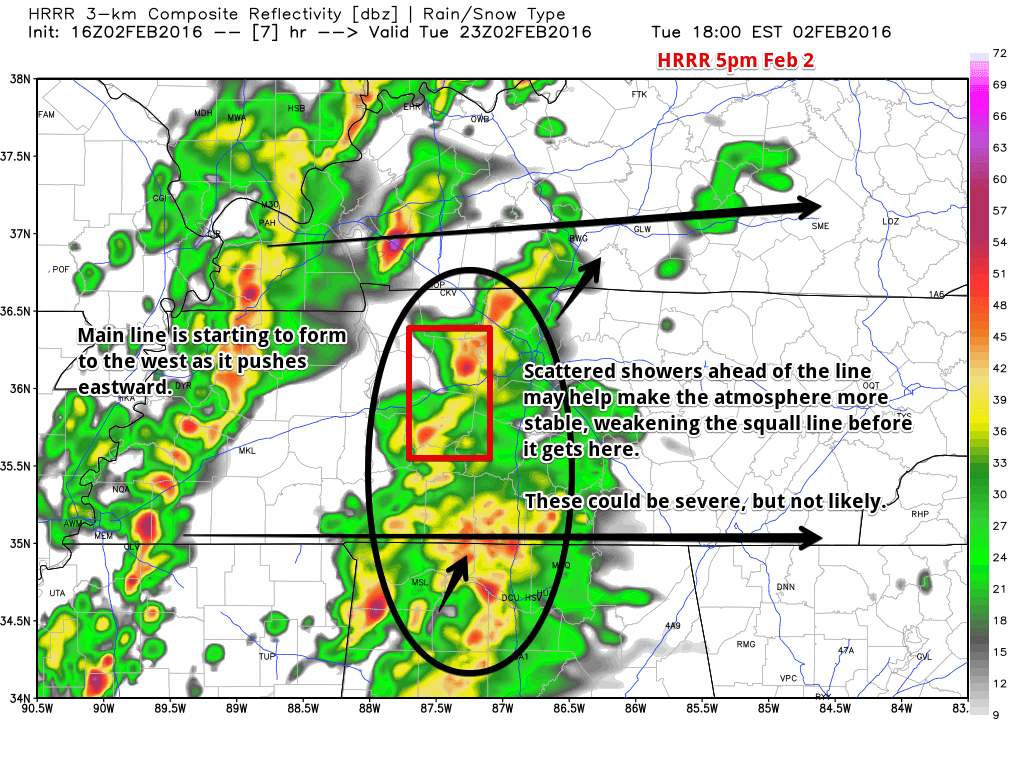 NAM4 shows the line slowly getting in line (no pun intended) as it works its way closer to us. It does show the line a little closer to us than the HRRR does above, hence why we've been given the 5pm to 10pm time frame of the arrival of the storms, since it's hard to predict exactly when they will arrive.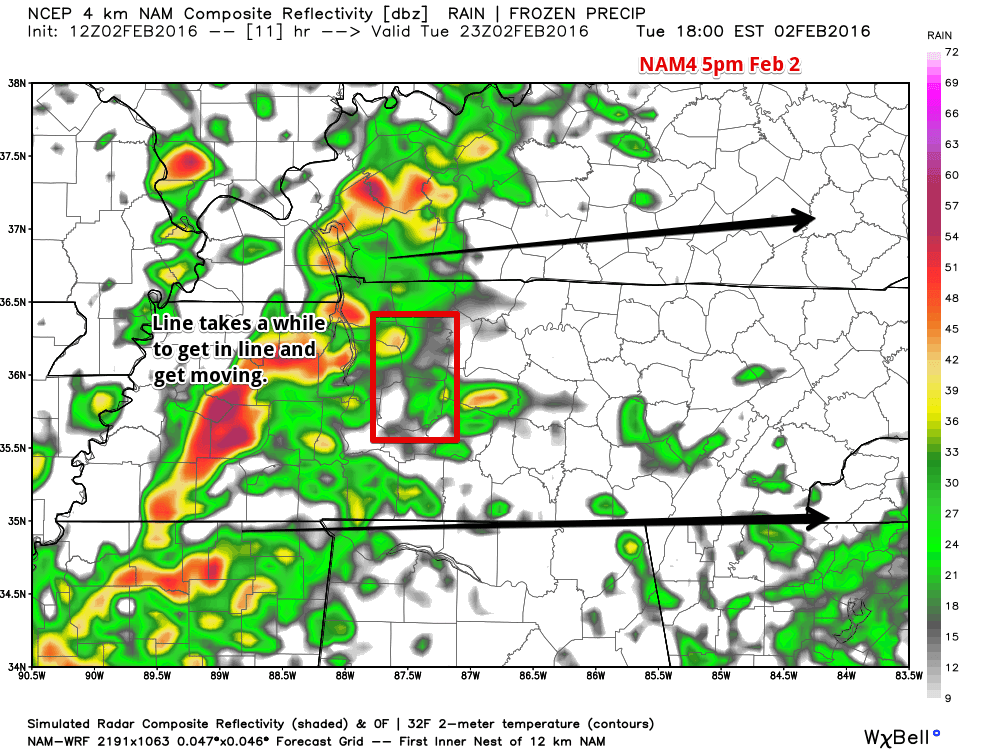 9pm Tuesday
The HRRR still shows the line coming in a little quicker than the NAM4 does. Here, the HRRR shows the line getting into the western fringes of Hickman County by about 9pm.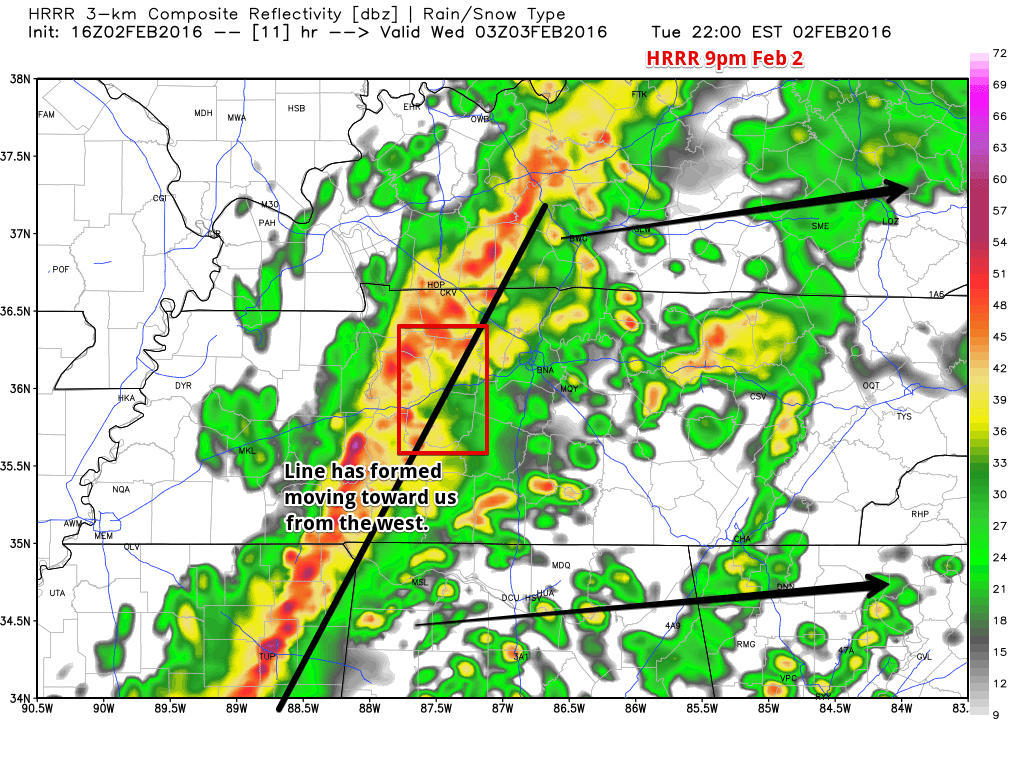 The NAM4 shows the line finally becoming a squall line right before it comes into Hickman County. This means we will likely see the worst of the weather from this storm. Damaging straight line winds and isolated tornadoes are possible during this time.
The NAM4 is wanting to hold off the arrival of the line until around 10-11pm for us, but for now it's safe to assume it will come earlier than later.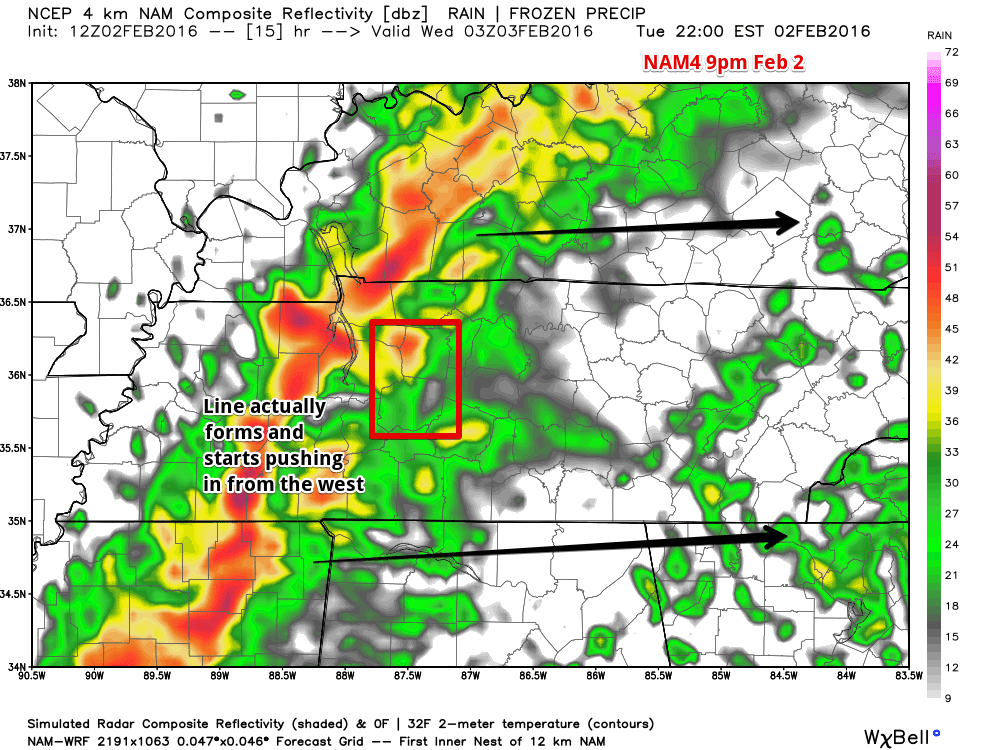 11pm Tuesday
The HRRR shows at 11pm that the line has moved out of the area at 11pm. However, this is just a guess and shouldn't be taken as gospel truth.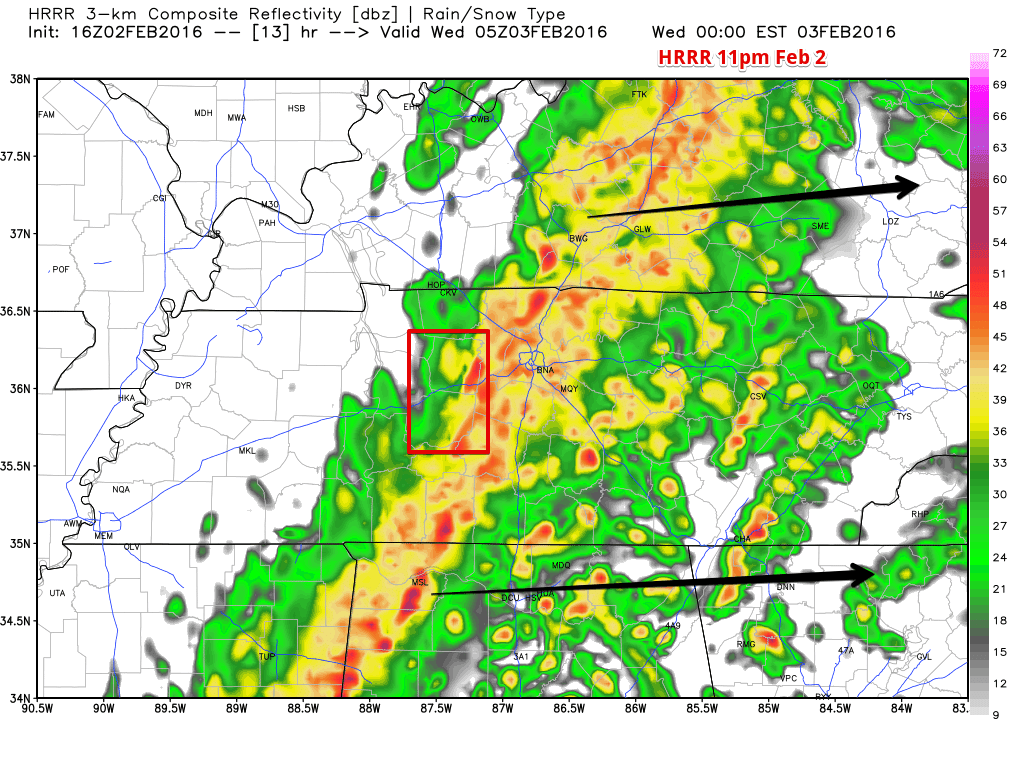 NAM4 is showing it pretty much on top of us at 11pm Tuesday, and as a strong squall line.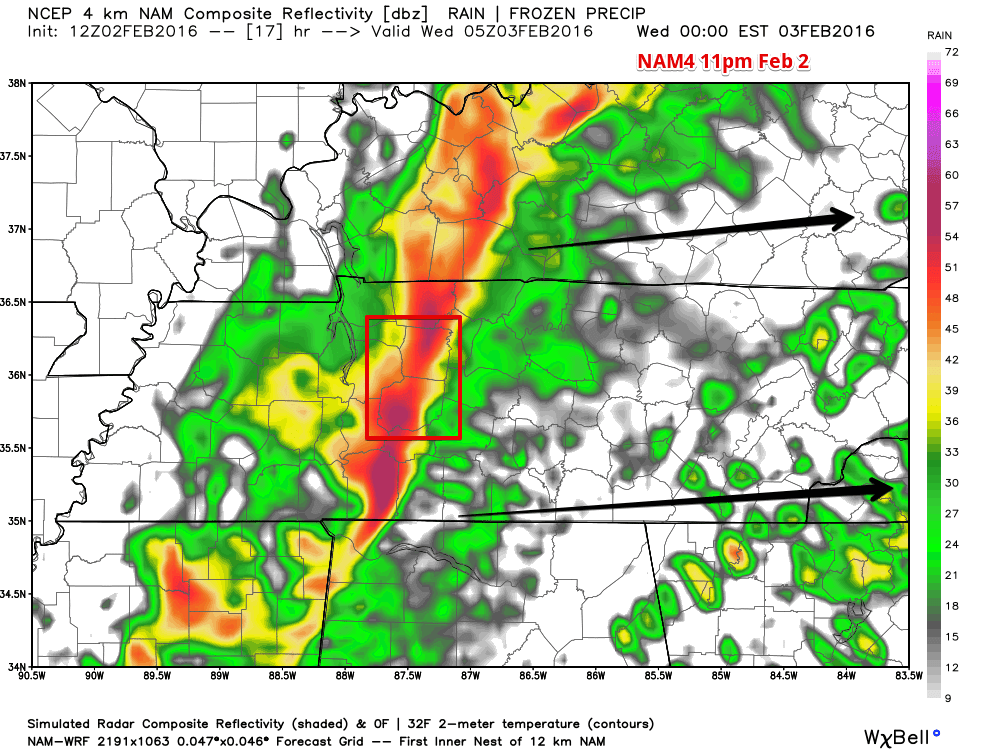 FAQ
Why the long time frame?
Models don't seem to be agreeing very well on the exact timing, even this close to the event. This is because the line will actually form once it gets into West Tennessee, and modes are having a hard time predicting when the line will get its act together and become an official squall line.
Is there a chance for supercells?
Yes, but it is a low chance. Some of the storms ahead of the line may get strong enough to warrant a warning, but we don't anticipate it.
Why a straight line damaging wind threat and a tornado (rotating) threat?
Winds at the ground are moving southeast, while the winds higher up are moving southwest. With the winds moving in almost opposite directions (east then west), it could create enough rotation to put down a tornado.
Did the tornado threat increase? Why?
Yes, it did increase from yesterday (and earlier SPC outlooks), but only slightly. Before, we were estimating CAPE (convective available potential energy) to be around 300-600 j/kg, but now they are estimated to be around 1300-1600 j/kg when the storms get here.
More CAPE means more fuel for the thunderstorms to feed off of. This is what we mean by instability. When the sun comes out, it increases instability ahead of this type of storm. When a rain shower moves in ahead of the line, it helps to decrease instability (it eats up most the food at the buffet before the larger line can tap into the buffet to eat).
Why will it weaken after it moves through our county?
The sun will have been down for a while, meaning no new CAPE was able to be quickly generated, so the storms won't have as much fuel to eat after it crosses the I-65 area and gets into around midnight timeframe.
More updates forthcoming
We will do our best to update the site and push out the updates to email subscribers and to our social media pages. Stay tuned to us at @HickmanSevereWx for the latest and most up to date info before and during the storms.