Live or work in another county? Be sure to follow their #tSpotter coordinator on Twitter. Below is a map of those on Twitter. We've also created a handy list on Twitter in which you can easily scan and select the counties important to you.
Also, even if you don't live or work in Nashville, Davidson County or Williamson County, follow @NashSevereWx. He is the one that started this for all of us!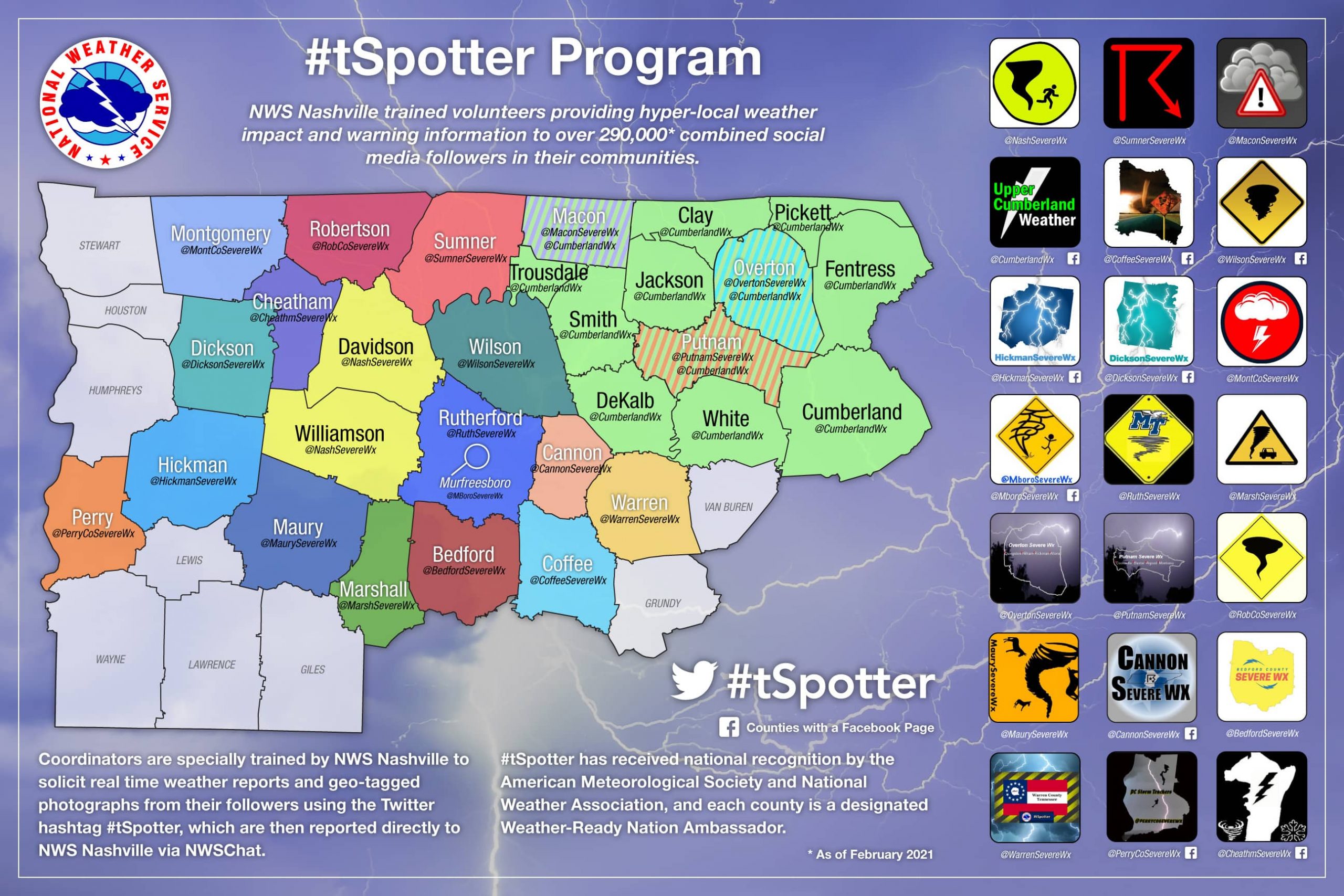 #tSpotter Coordinators on Twitter, list by @HickmanSevereWx.
Official #tSpotter counties
@NashSevereWx
@BedfordSevereWx
@CannonSvrWx
@CheathmSevereWx
@CoffeeSevereWx
@DicksonSevereWx
@HickmanSevereWx
@MaconSevereWx
@MarshSevereWx
@MaurySevereWx
@MBoroSevereWx
@MontCoSevereWx
@OvertonSevereWx
@PerryCoSevereWx
@PutnamSevereWx
@RobCoSevereWx
@RuthSevereWx
@CumberlandWx
@SumnerSevereWx
@WarrenSevereWx
@WilsonSevereWx
Note: we are not part of the NWS. We are simply volunteers that do this to help keep each other safe during severe weather. We relay any important info to NWSNashville if and when warranted.
Other accounts you may be interested in following
National Weather Service Nashville and Others
National Weather Service Nashville BNA – KOHX: @NWSNashville
Hickman County
Hickman County Emergency Management Agency: @HickmanCoEMA
Local TV Meteorologists
News 2 – WKRN
Channel 4 – WSMV
NewsChannel 5 – WKRN
Fox 17 – WZTV
Page last updated February 16, 2021.