Summary: Unsettled wet weather in store for us over the next five days. No concerns for severe weather.
Welcome to the start of a very unsettled weather pattern that is going to hopefully water all of our lawns over the next five days.
Today, we are looking at a 40% chance of rain and thunderstorms with a high temperature reaching about 80 degrees. Winds will be a little breezy coming out of the south at 10 mph. Tonight, rain chances stay the same as our overnight low drops to a mild 67 degrees and winds calm down to about 5 mph out of the south.
Scattered showers and storms start to ramp up for us around 2pm today with day time heating according to the HRRR simulated radar (placement of these storms below are just a guess – expect spotty to scattered showers anywhere in TN).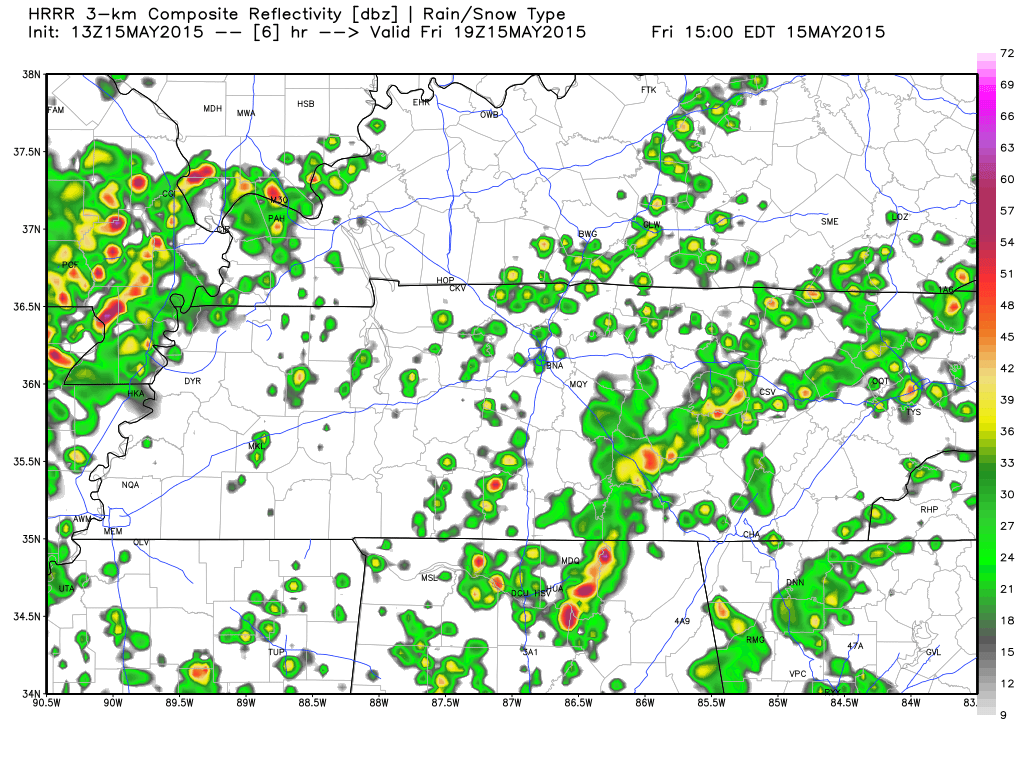 Scattered showers and storms stick around for a while, but begin to taper off after dark with a line that seems to form and move in from the east. Here's HRRR's simulated radar for 8pm for when HRRR believes that line will reach us.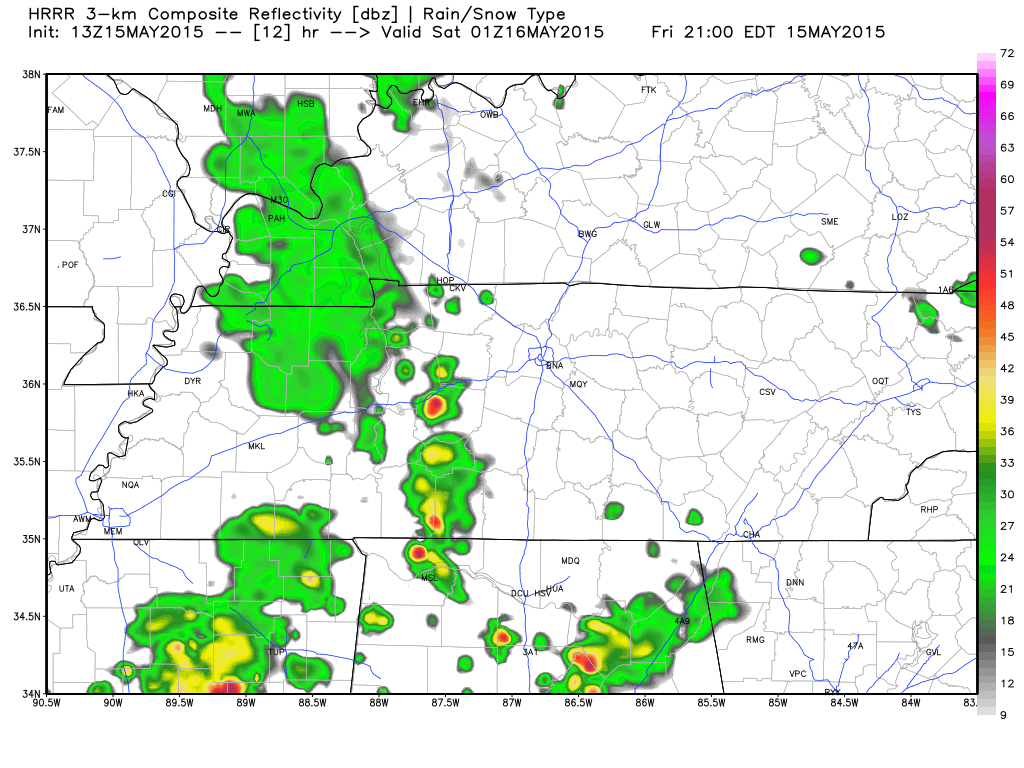 NAM4's simulated radar believes the "line" that forms will reach us about 9pm, so it's safe to say that if this line forms, it will reach Hickman County between 7pm and 10pm.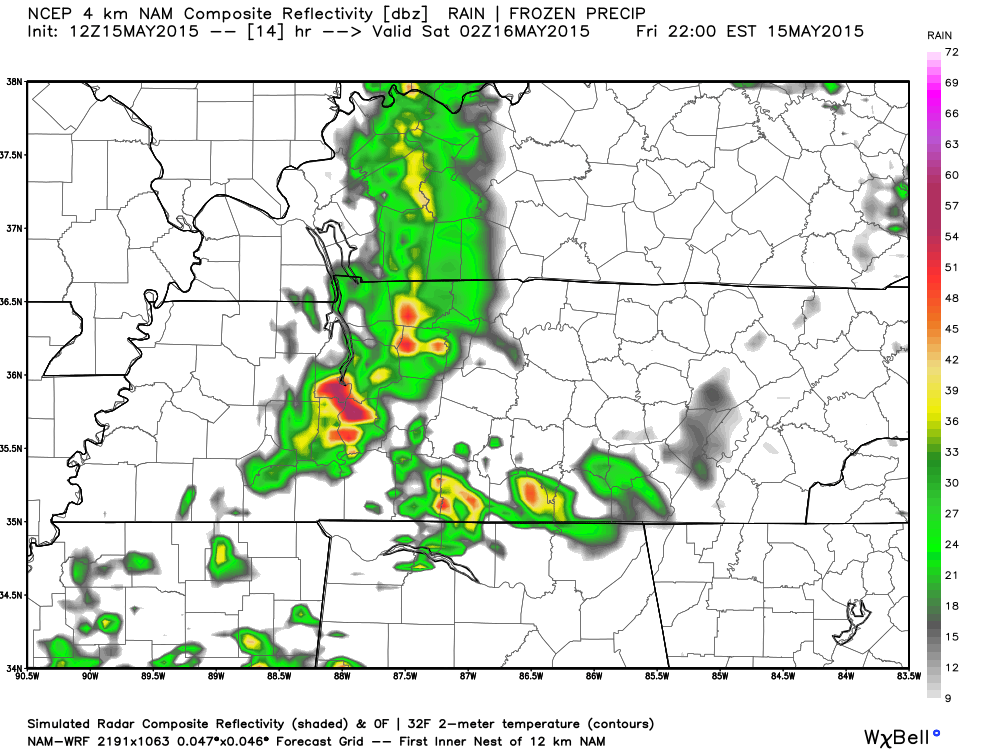 Some of us may see rain, some of us may not. But don't worry, if you don't see rain today, you will have a better chance this weekend.
Weekend rain will make outdoor activities iffy.
Saturday, rain and thunderstorms are likely as we are given a 70% chance of seeing some rain for our lawns. The high is expected to be about 78 degrees with winds out of the south at 5 to 10 mph. Saturday's overnight low will fall to about 68 degrees with rain chances falling slightly to 50%.
We could start Saturday early morning with just a spotty shower or two around. Here's NAM4's look at 7am in the morning.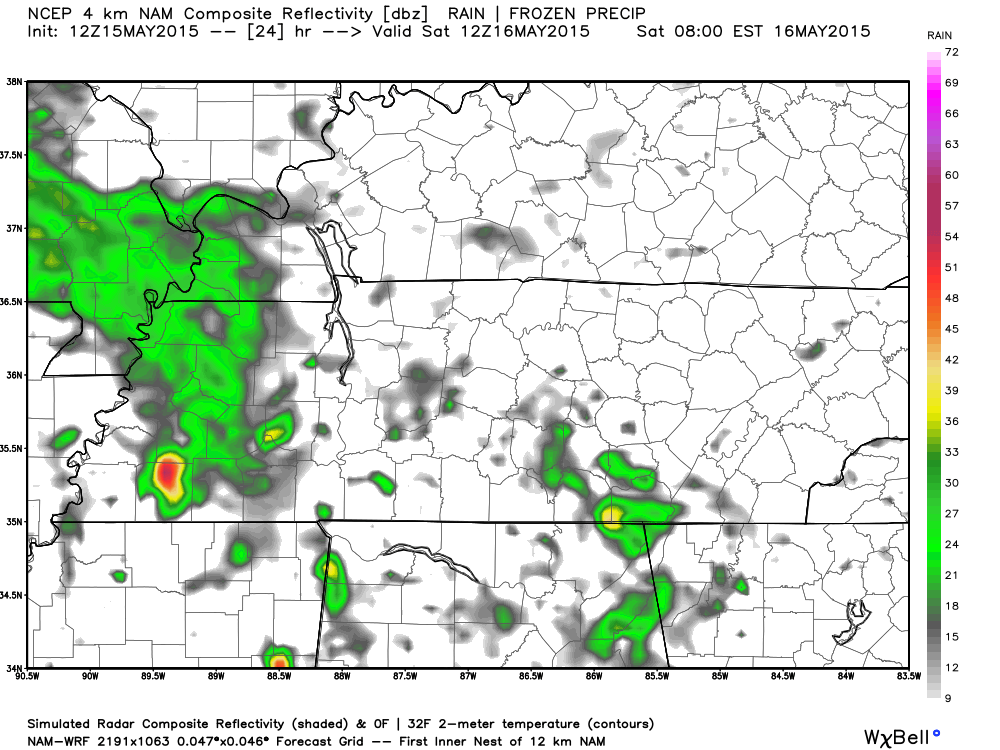 Rain chances really begin to ramp up the later we get into the day. Here's NAM4's simulated radar for noon. That big blob of rain over Hickman County is simply a guess in the placement, but chances are we will get wet at some point Saturday.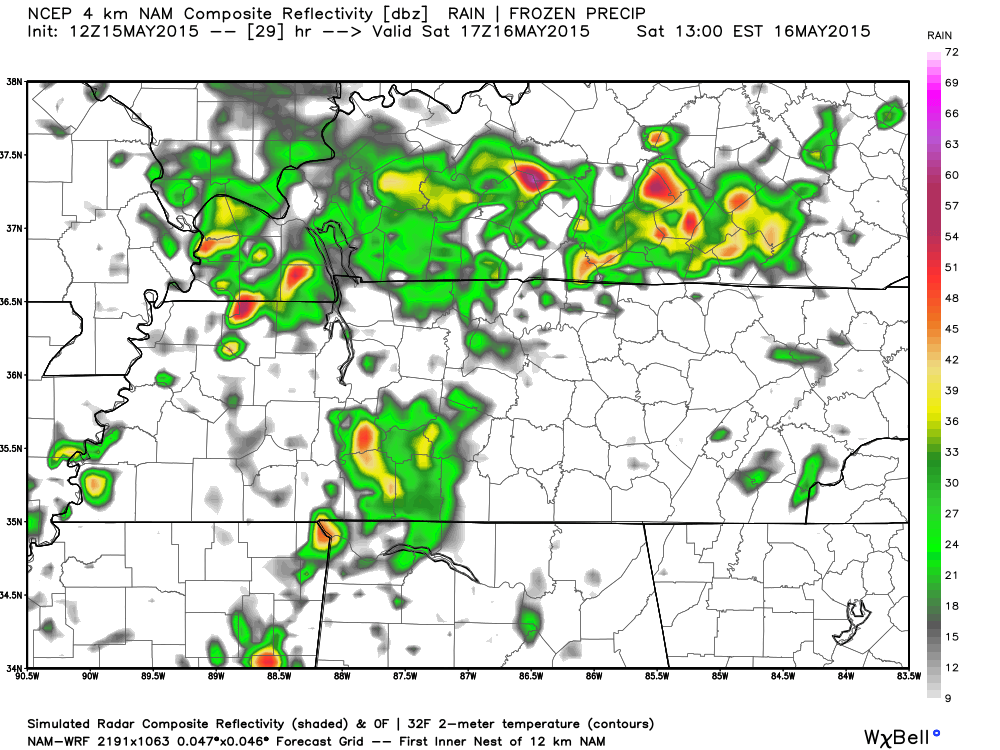 The NAM12 model is wanting to paint an even more widespread rain for Saturday. Here's NAM12's simulated radar for noon.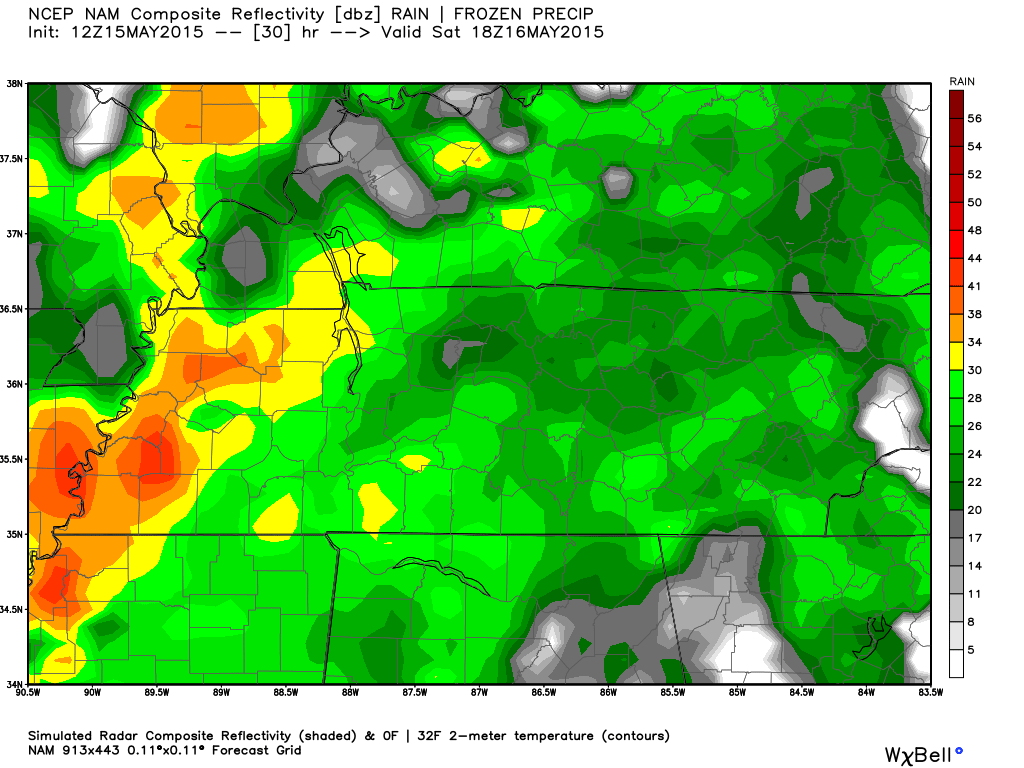 And another look from NAM12's simulated radar model at 3pm Saturday.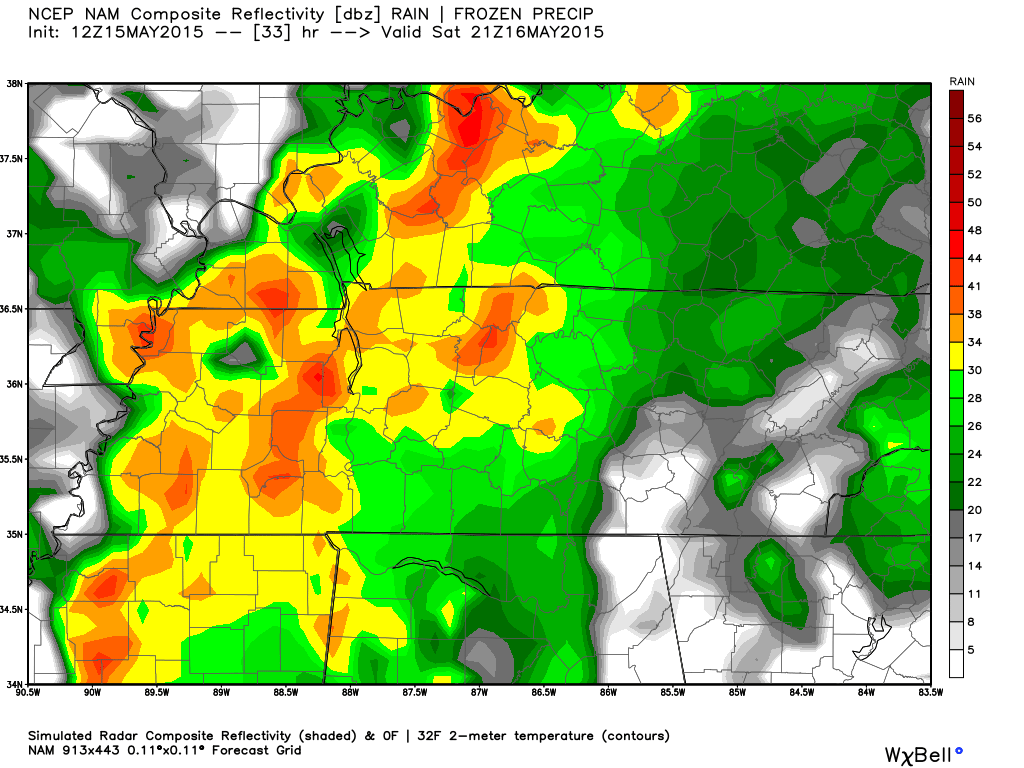 Which will likely happen? Chances are you will see your grass get a drink, but the radar will likely resemble something between the NAM4 and the NAM12 models for Saturday. This is because it is hard for the models to predict the very unsettled rain pattern and is making educated guesses.
If you have outdoor activities on Saturday or Sunday, it is best to have an indoor plan just in case you get rained on. It won't be a washout, but there is a good chance you will get wet at some point during the day.
Sunday will have a smaller chance of rain at 40% and a high temperature of 83 degrees. Winds will pick up to 10 to 15 mph out of the south southwest.
Here's NAM12's look at Sunday at noon.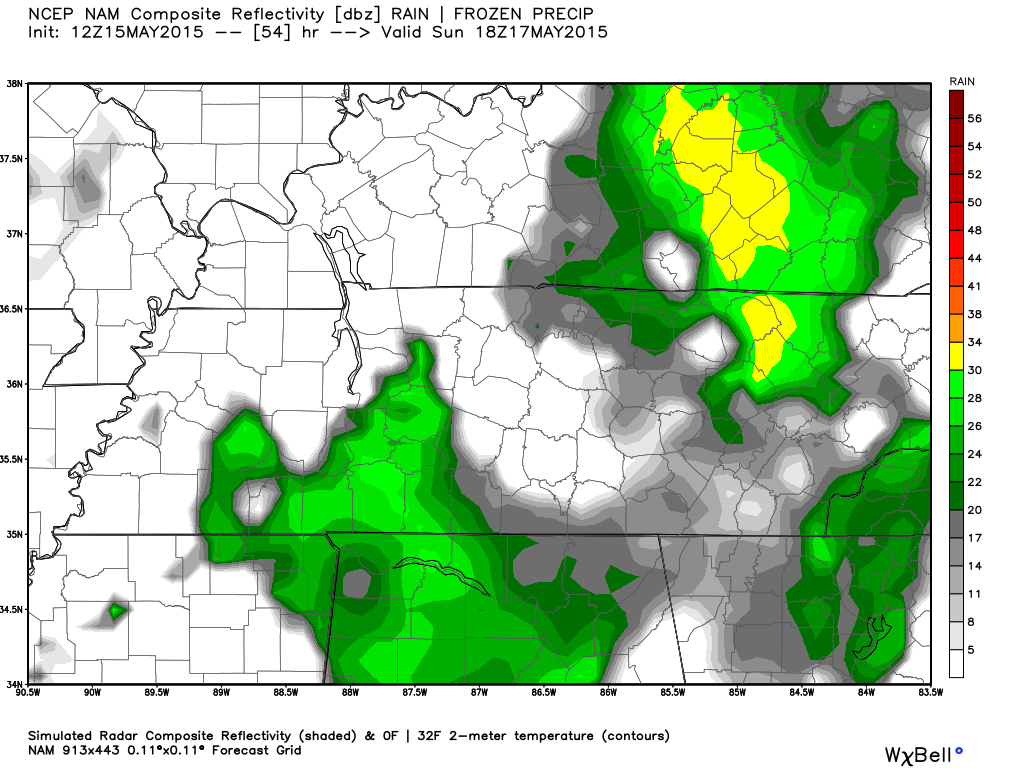 The work week starts of wet as well
Monday will be unfortunately wet as the work week starts with a rain chance of 60% and a high temperature of 80 degrees. Monday night brings the push of the unsettled weather pattern out of here with a 30% chance of storms and an overnight low of 59 degrees.
Extended Forecast

From weather.gov