*tap tap tap* Is this thing still on?
So it's been a minute since I've published regular updates on this site for weather related blogs. Going to attempt to change that in the new year with posting regular updates on Mondays and Thursdays, when NWSNashville sends out their briefing to the media. Will also post when significant weather also is expected.
Anyways, on to weather for Hickman County for this week.
Dry start to the week, with average-ish temps.
It's going to be a dry start to the first full week of the year, with temps staying around average or maybe slightly above.

Today's going to be the warmest of the week, coming in with a forecasted high temperature of 53 degrees under partly sunny skies. Tonight's low temp will dip to just above freezing at 35 degrees.
High temps then dip a bit for Tuesday and Wednesday. Tuesday's high is forecasted to be 46 degrees under mostly sunny skies, with an overnight low dipping to 27 degrees. Wednesday temps rise to 48 degrees under partly sunny skies before rain returns Wednesday night.
Rain returns Wednesday night, ending with a *very* small chance of wintery mix Thursday night into Friday morning.
Rain returns Wednesday night and continues through Thursday, ending Friday morning. Wednesday night we have a 20% chance of rain, Thursday a 40% chance of rain, and Friday morning a 30% chance of rain.
There's a tiny chance that the rain ending on Thursday night/Friday morning could be a wintery mix, but that's more than likely going to happen east of I-65. But of course, we'll keep an eye on it. If it happens, NWSNashville doesn't expect much in the way of accumulation.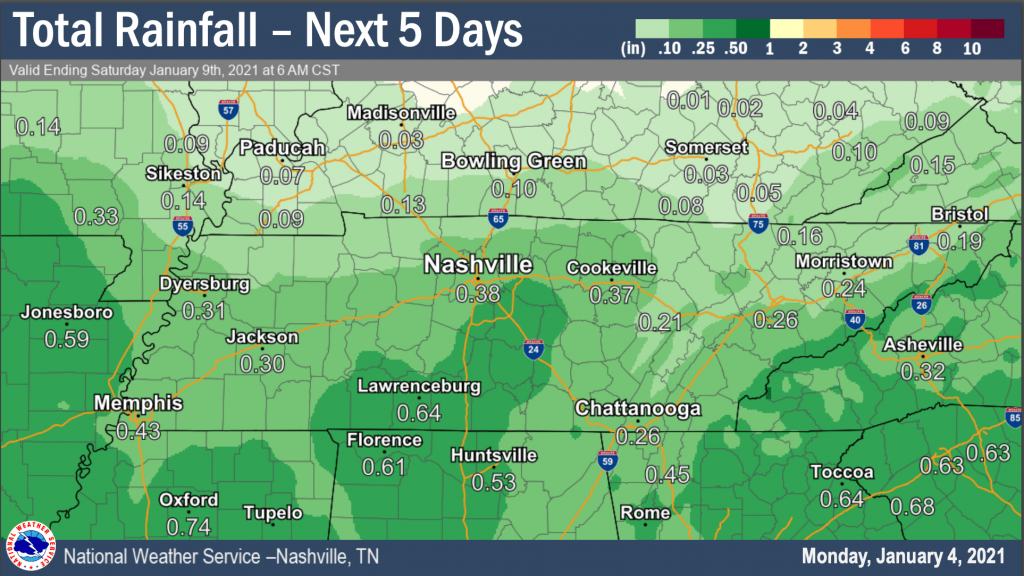 Expecting to see about a quarter of an inch of rain from this system moving through later in the week.
Temperatures on Thursday and Friday are expected to rise to the lower 40's and fall overnight to right at or just below the freezing mark.
Quick check of the weekend: dry, cool, but somewhat sunny.
Taking a quick look into what the weekend holds for us shows a partly sunny forecast with the highs barely reaching the lower 40's and overnight lows dipping below freezing into the upper 20's.