Summary: Mother's Day should be mostly dry and warm. Watching a chance of severe weather to start the work week.
Happy Mother's Day to all the moms out there!!!
Since today is a holiday I won't keep you too long. Today our high temp will be about 88 degrees with a 10% chance of rain and thunderstorms in the afternoon.
Taking a look at the HRRR model as of this post, it looks like some isolated showers may creep up around 3pm today for us, but this is just a guess.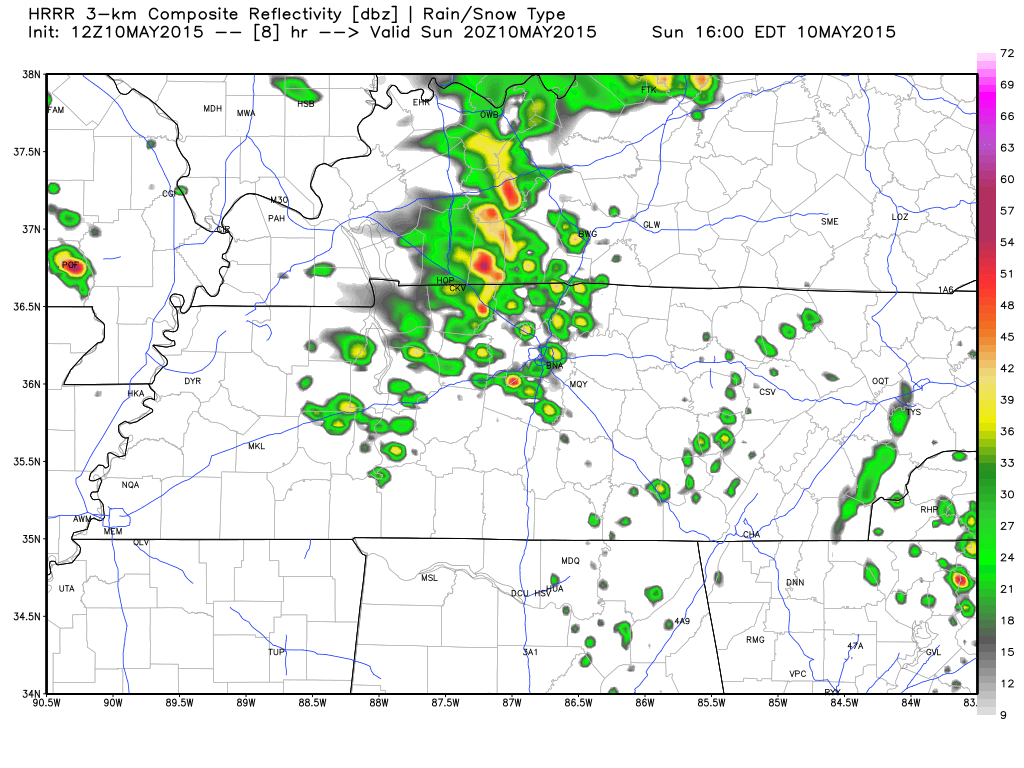 Showers could pop anywhere, but it isn't all that likely you will get rained on today. Have an indoor plan for Mom in case you need to use it, but it doesn't look likely you will have to (10% chance of rain).
Tonight's overnight low will fall to about 66 degrees with our rain chances doubling to 20%.
We start the week with a threat of severe weather.
Unfortunately after our dry run the last couple of weeks, we will start our work week with a 50% chance of rain for Monday and a high temperature reaching about 85 degrees.
There is a cold front that will be working its way toward us over the weekend and is expected to cross through the Mid State sometime Monday afternoon to evening.
The Storm Prediction Center has increased our outlook for severe weather for Monday at 7am through Tuesday at 7am to the ENHANCED category. West Tennessee seems to be getting the majority of the ENHANCED category, but we are right inside of their outlooked area.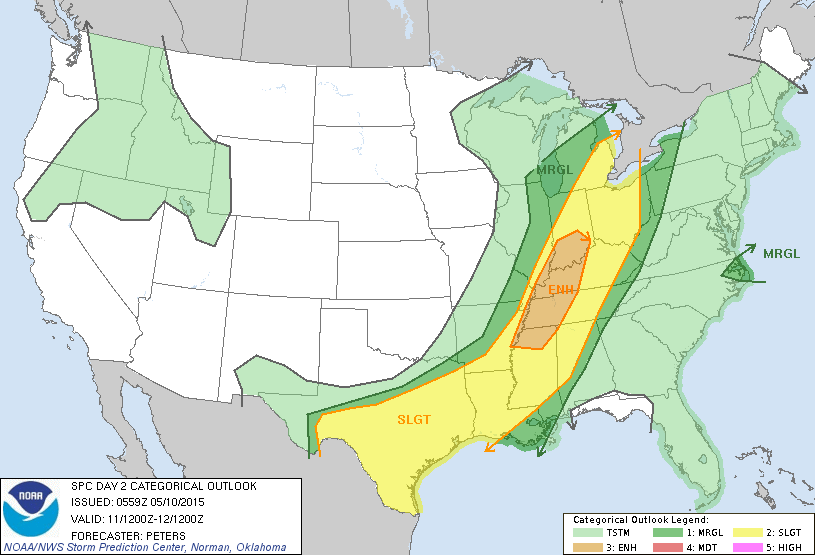 This means they believe we have a 30% chance of seeing severe weather within 25 miles of a point.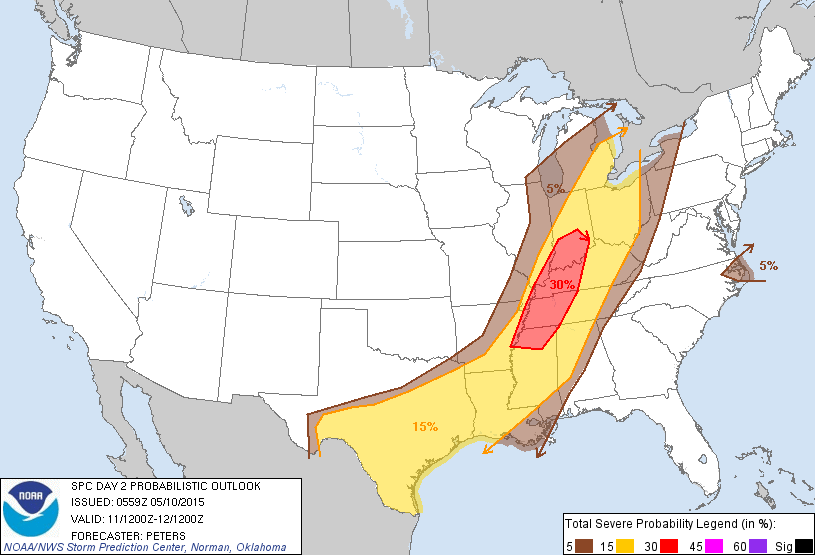 The NWSNashville has posted a HAZARDOUS WEATHER OUTLOOK for Monday as well.
.DAYS TWO THROUGH SEVEN...MONDAY THROUGH SATURDAY.

A COLD FRONT IS FORECAST TO PUSH INTO THE AREA ON MONDAY AND
MONDAY NIGHT...AND PRODUCE SCATTERED THUNDERSTORMS. A FEW OF THOSE
STORMS OVER WESTERN MIDDLE TENNESSEE COULD BECOME STRONG TO SEVERE
WITH HEAVY DOWNPOURS...STRONG WINDS... AND HAIL. RIGHT NOW...IT
LOOKS LIKE THE MAIN CHANCE FOR ISOLATED SEVERE STORMS WILL BE
OVER WESTERN MIDDLE TENNESSEE DURING THE AFTERNOON AND EVENING
HOURS ON MONDAY.

.SPOTTER CALL TO ACTION STATEMENT...

EVEN THOUGH ANY SEVERE THUNDERSTORMS ARE EXPECTED TO BE BRIEF AND
ISOLATED, SPOTTERS ARE ENCOURAGED TO CLOSELY MONITOR WEATHER
CONDITIONS AND BE PREPARED TO CALL IN ANYTHING REACHING REPORTING
CRITERIA.
It appears that any strong to severe storms that produce in West Tennessee could hold together long enough to make it here and might keep their severe strength.
Right now the NAM4 simulated radar is wanting to say the line of showers and storms will reach Hickman County around the 6pm to 10pm time frame. Below is the simulated radar from NAM4 at 7pm.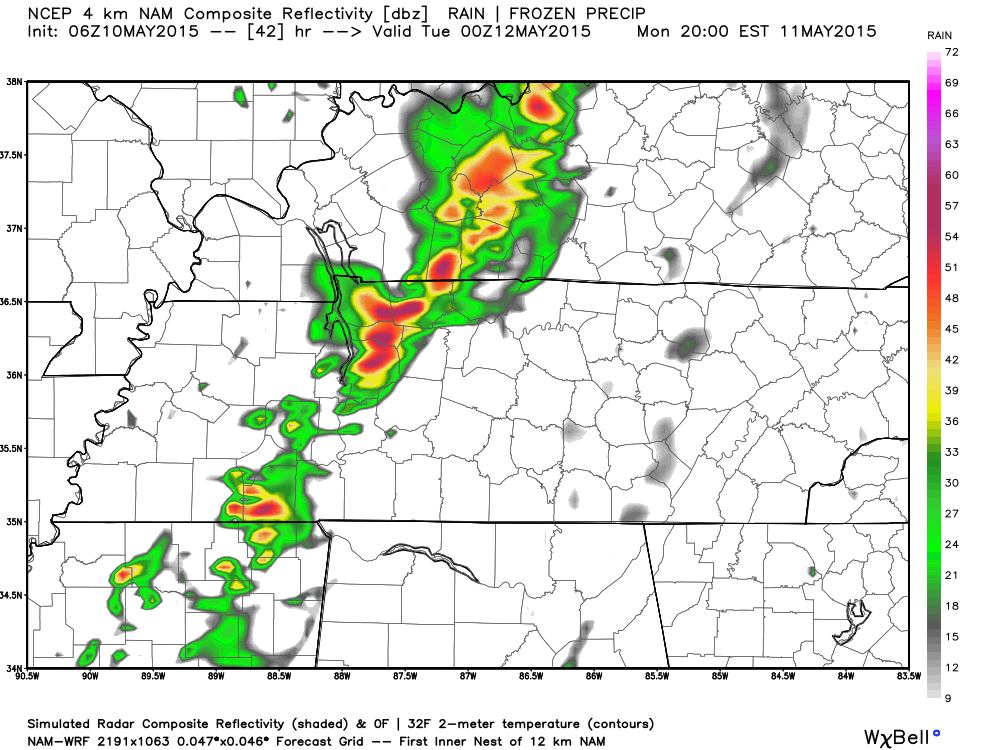 With this event being 36 hours away, the time and intensity could change a bit. This appears to be mainly a damaging wind and hail event, but could include a tornado or two according to the SPC (underlined is our emphasis):
STRENGTHENING EFFECTIVE BULK SHEAR WITH SHEAR VECTORS ORIENTED
   PARALLEL TO THE INITIATION BOUNDARIES SUGGESTS PRIMARILY
   LINES/BOWING SEGMENTS WITH 

DAMAGING WINDS AND HAIL WILL BE THE
   PRIMARY THREATS.  HOWEVER...A TORNADO THREAT CANNOT BE RULED OUT

...
Since it is a holiday, I won't outline all of the specifics. Since this is expected to happen later tomorrow afternoon and evening, I will write more in tomorrow morning's post and will have much more details and updated outlook from SPC.
Extended Forecast

From weather.gov