Summary: Increased chance of rain this weekend, ending with a possibility of severe weather Monday.
Today is going to be hot and humid, with temps reaching about 86 degrees and 30% chance of rain and thunderstorms. The dew points are higher today than yesterday, so while the temp is a bit cooler than it was yesterday, the dew points will make it feel the same if not a bit worse.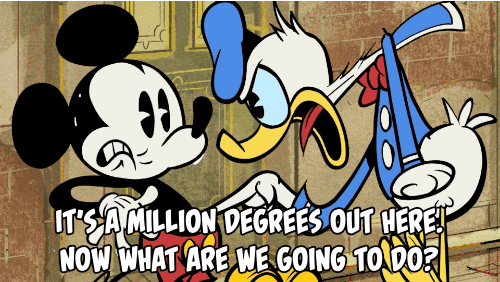 Any rain chances will likely come during the daytime heating sometime after 1pm. There isn't any real "trigger" to get storms going, but enough "trigger" could come off of the storms to our west to make it here in enough time to produce some time of precipitation somewhere.
It likely won't rain everywhere, but it could rain somewhere.  If you have outdoor plans, make sure you have an indoor plan just in case, but it isn't likely you will have to use that plan.
Tonight, overnight lows will fall to about 64 degrees with a 20% chance of rain and thunderstorms.
Mother's Day
For Mother's Day, the weather will be very similar to today in terms of heat, humidity and the chance for rain. Rain chances go down to about 20% while temps will rise to about 88 degrees.
Showers and storms again could develop in the afternoon with daytime heating, but it is "more likely than not" (NFL pun intended) that you will remain dry. However, have an indoor backup plan for any outdoor activities you have with your Mom.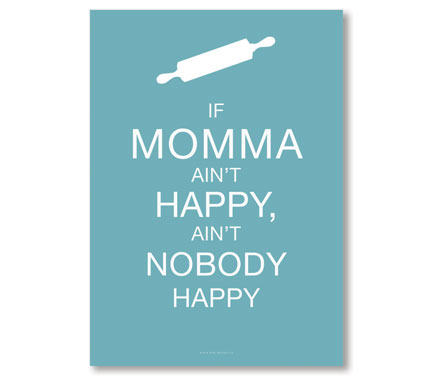 Monday's chance of severe weather
Monday we are looking at a 50% chance of rain and thunderstorms as a cold front pushes through. Temperatures are expected to be about 85 degrees.
We've been outlooked for severe weather in the Storm Prediction Center's Day Three outlook issued today for Monday.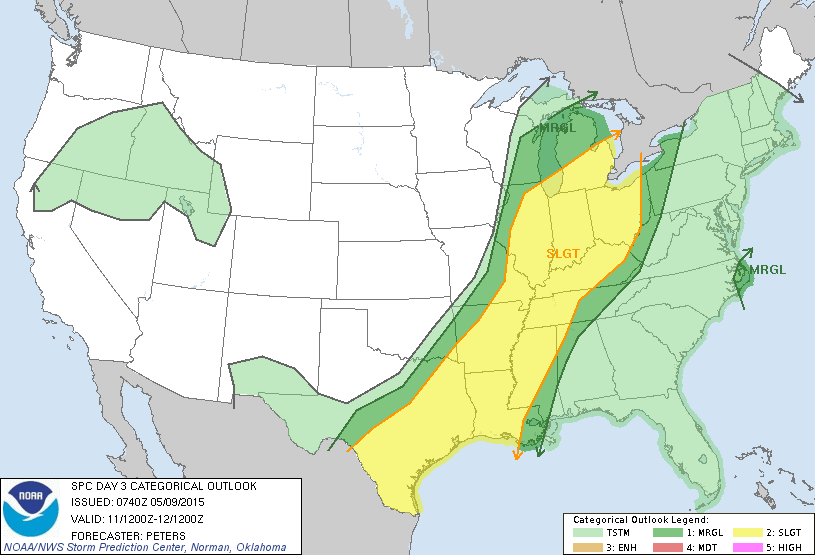 They have placed us in the SLIGHT category for Monday 7am through Tuesday 7am. They believe we have a 15% chance of seeing severe weather within 25 miles of a point.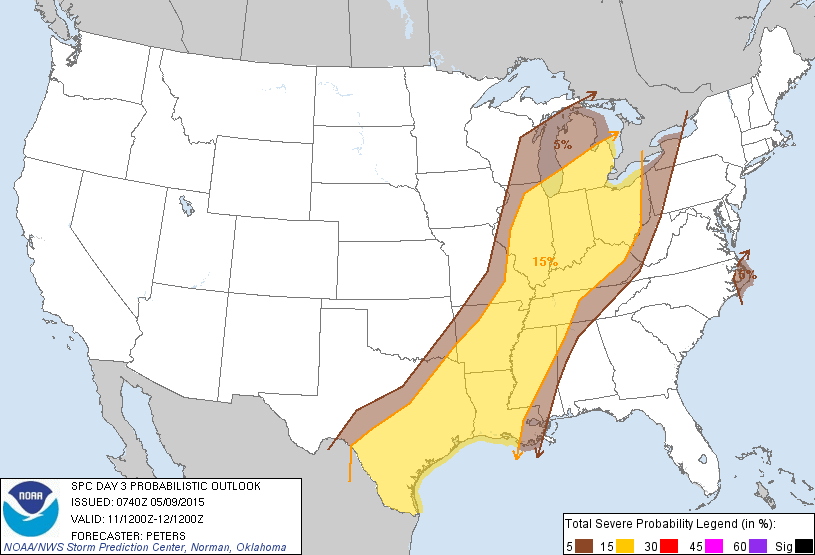 Currently, severe weather ingredients with this cold front pushing through aren't that impressive right now, but it's still three days out, so we will watch to see if this changes.
The NWSNashville has issued a HAZARDOUS WEATHER OUTLOOK for Monday's possible severe weather:
.DAYS TWO THROUGH SEVEN...SUNDAY THROUGH FRIDAY.

A COLD FRONT IS FORECAST TO PUSH INTO THE AREA ON MONDAY AND
MONDAY NIGHT...AND PRODUCE SCATTERED THUNDERSTORMS. A FEW OF THOSE
STORMS COULD BE STRONG WITH HEAVY DOWNPOURS AND GUSTY WINDS.
Extended Forecast
From weather.gov