Summary: Air Quality Alert for Ozone today. Hot and humid continues. Isolated chances of rain now through the weekend. Watching Monday.
Today, we will see high temps reach about 86 degrees under sunny skies. We are under an AIR QUALITY ALERT for Ozone today. Below is the exact wording for the alert:
...AIR QUALITY ALERT IN EFFECT FROM MIDNIGHT TONIGHT TO MIDNIGHT CDT
THURSDAY NIGHT...

THE TENNESSEE DEPARTMENT OF ENVIRONMENT AND CONSERVATION HAS ISSUED A
CODE ORANGE HEALTH ADVISORY FOR THE NASHVILLE AREA...IN EFFECT FROM
MIDNIGHT TONIGHT TO MIDNIGHT CDT THURSDAY NIGHT.

A CODE ORANGE AIR QUALITY ALERT FOR OZONE HAS BEEN ISSUED. GROUND LEVEL
OZONE CONCENTRATIONS WITHIN THE REGION MAY APPROACH OR EXCEED UNHEALTHY
STANDARDS. THE GENERAL PUBLIC IS NOT LIKELY TO BE AFFECTED. ACTIVE
CHILDREN AND ADULTS, AND PEOPLE WITH A RESPIRATORY DISEASE SUCH AS
ASTHMA, SHOULD LIMIT PROLONGED OUTDOOR EXERTION. FOR ADDITIONAL
INFORMATION...VISIT THE TENNESSEE DEPARTMENT OF ENVIRONMENT AND
CONSERVATION SITE AT HTTP://WWW.TENNESSEE.GOV/ENVIRONMENT.
Tonight, expect temps to fall to about 61 degrees under mostly clear skies.
Friday will be a repeat of today (hopefully without the Air Quality Alert), as temps will reach about 83 degrees under mostly sunny skies. Friday night the temp will fall to about 87 degrees.
Rain chances over the next several days.
With making it the entire month of May so far with no precipitation, when is the next time we will see rain?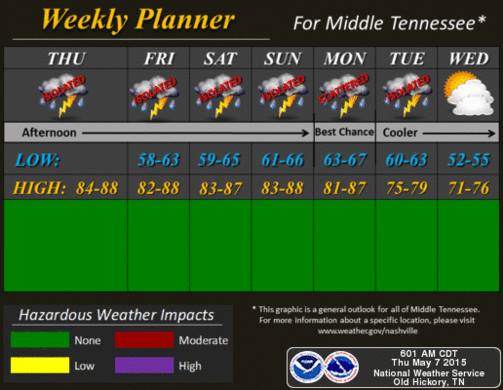 It looks like rain chances start to increase starting Saturday with a 30% chance of rain with high temps reaching about 86 degrees. We could see an isolated shower or thunderstorm with daytime heating. For Mother's Day the chance decreases just a hair to 20%, while the high temps will be about 86 degrees as well.
We are watching for a possible increased chance of thunderstorm activity for Monday, as we have about a 50% chance of rain that day. What we are in particular watching is the SPC now has us outlooked for a chance of severe weather for Monday (Day 5).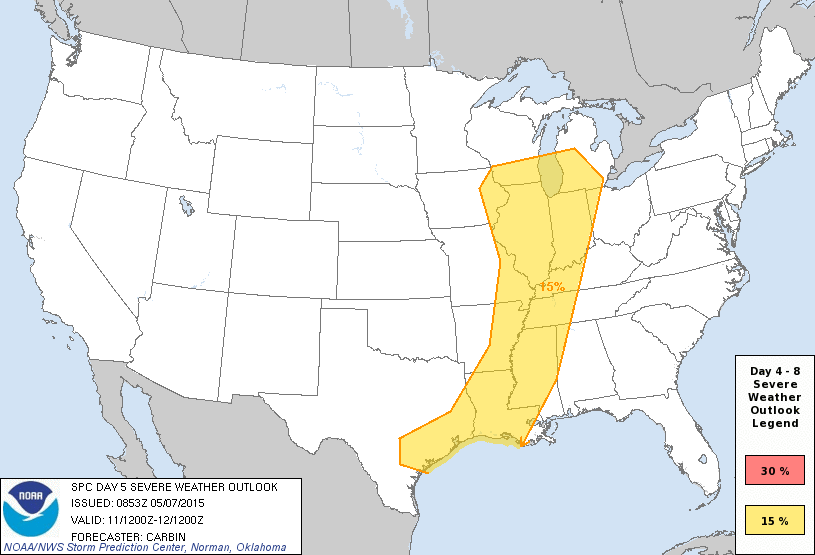 When outlooked on days 4-8, the SPC believes there is a 15% probability of seeing severe thunderstorms within 25 miles of a point. I-65 and west are within this yellow area.
It's still five days away, so we will watch to see how this develops. Until then, just be aware that Monday could start of with some rain and maybe some severe weather. We'll keep watching it.
Extended Forecast

From weather.gov