Summary: Rain chances return but are small. Mother's Day weekend will be warm and mostly dry. Looking at possible severe weather Monday.
Today, our high is expected to be 89 degrees under sunny skies. Winds will be out of the south southwest at about 5 to 10 mph. After about 1pm, our rain chances increase to about 20%. The overnight low is expected to fall to about 63 degrees and the 20% chance of rain still remains.
There will be some rain and likely non-severe thunderstorms that head this way during the day and are expected to cross the Mississippi still holding together at around noon. Below is the simulated radar from NAM4 at noon today.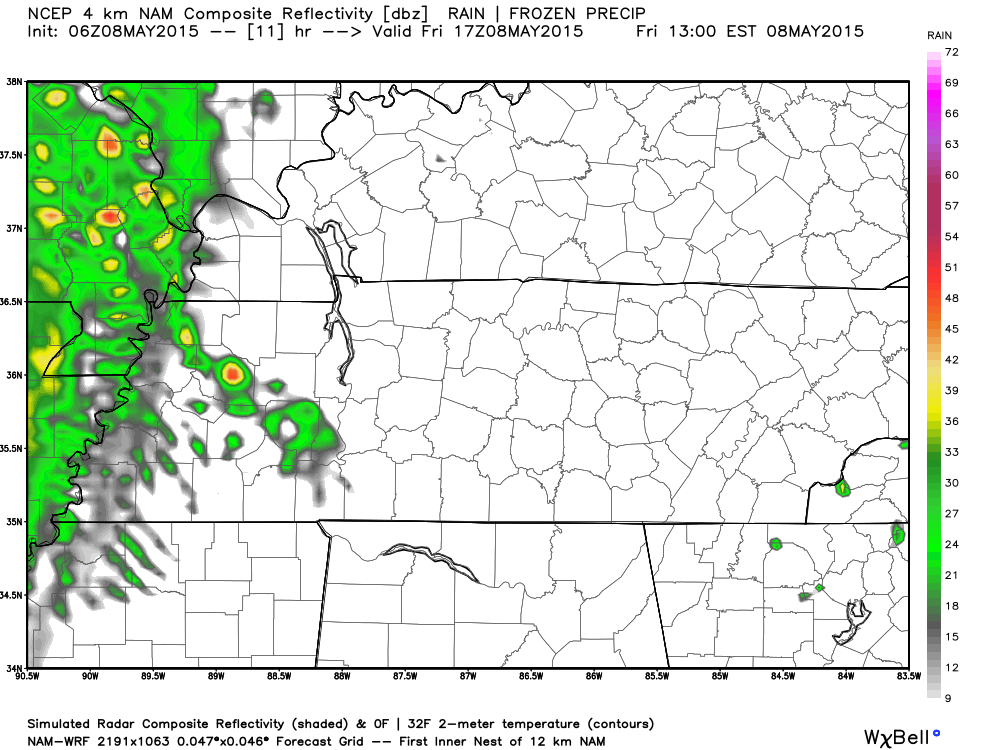 These showers advance toward us and appear to hold together while they start to come into Hickman County around the 4-6pm mark. Below is the NAM4 simulated radar at 5pm. The timing could be different as we work through the day today.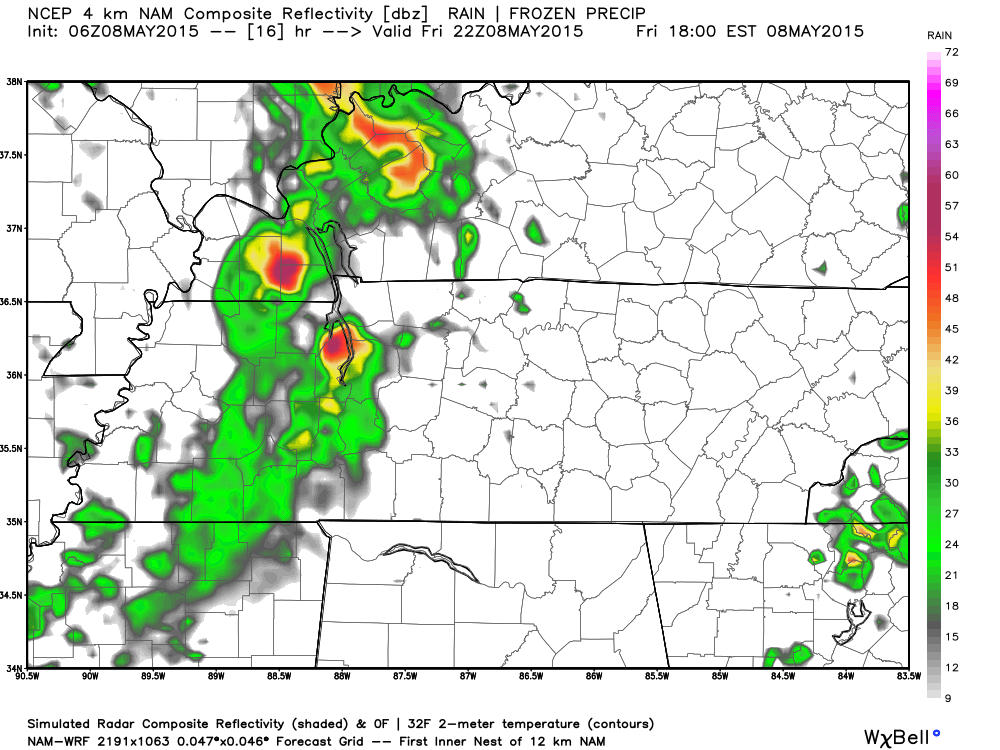 The NAM4 simulated radar shows these storms pretty much dying out as soon as they reach us due to dry air expected to be in place over Middle Tennessee. Below is the NAM4 simulated radar for 7pm tonight.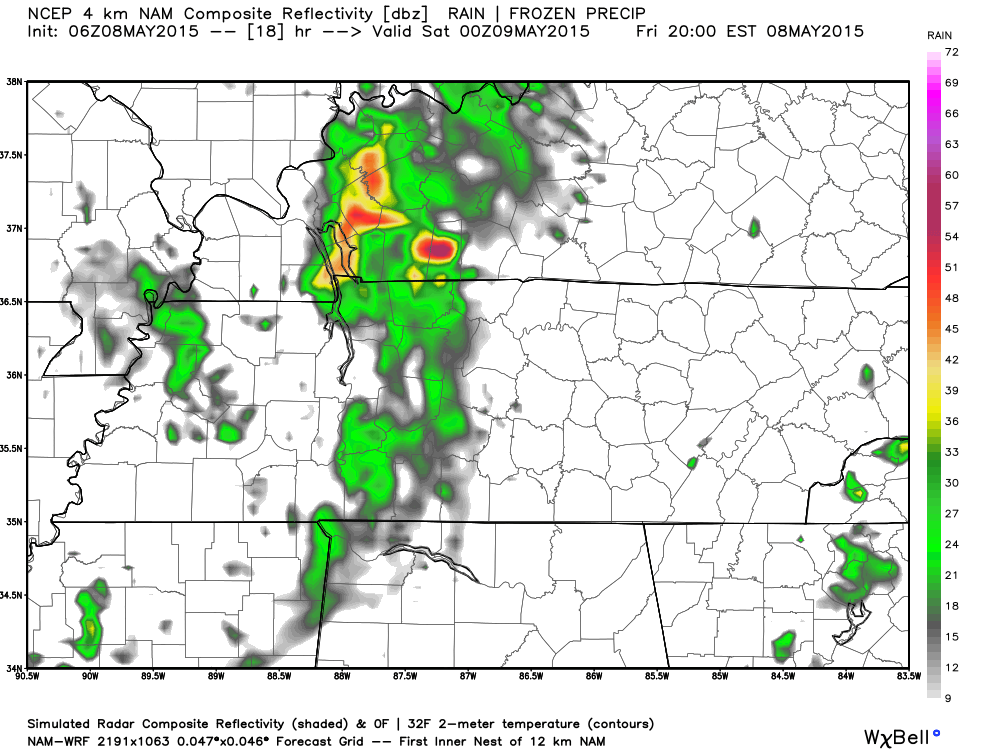 They pretty much vanish shortly after that. Why am I mentioning this if there is a good possibility the showers could fizzle on top of us or even before they get to us?
If they hold together long enough to make it through West Tennessee then fizzle out before or when they get to us, they will push out what is called an "outflow boundary" or an area of rain-cooled air that will travel through the space that the rain was supposed to go should it have stayed together.
This outflow boundary sets up the potential for rain on Saturday. Remember this as you read on about Saturday's forecast.
Mother's Day Weekend
On Saturday we will see a high temperature of 88 degrees under partly cloudy skies with a 30% chance of seeing rain. Winds will be out of the south at 5 to 10 mph.
Remember that outflow boundary? This could be our trigger to see rain on Saturday. Here's the simulated radar from NAM4 on Saturday at 4pm. While the showers aren't exactly on Hickman County, this simply shows that there is a chance of isolated showers and storms Saturday during the afternoon.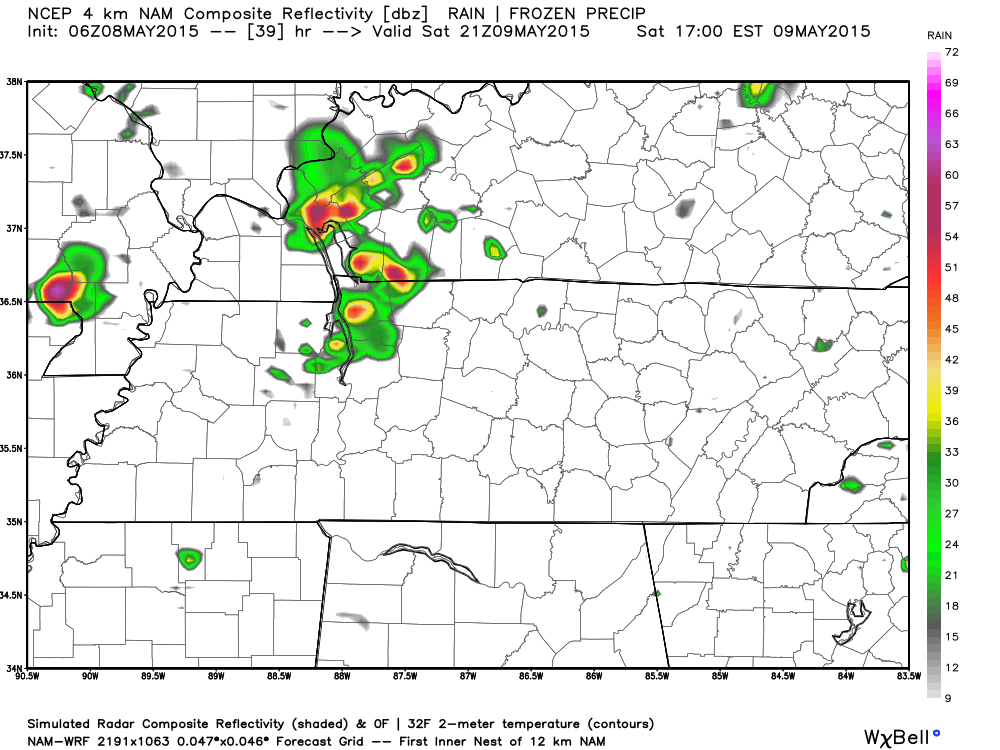 Saturday's overnight low is expected to be 65 degrees with a 20% chance of rain and thunderstorms.
Mother's Day brings a 87 degree high and another 30% chance of rain. Showers and maybe a thunderstorm could develop in the heating of the day.
Any chances of rain this weekend will be very isolated, so it isn't worth cancelling plans outdoors. Just simply stay weather aware if it starts looking like rain is getting close to you.
Looking at Monday's chance of Severe Weather.
Once we get through the holiday weekend, we are looking at a chance of severe weather on Monday. The SPC still has us outlooked for a 15% chance of seeing severe weather within 25 miles of a point on Monday between 7am Monday and 7am Tuesday (Day 4).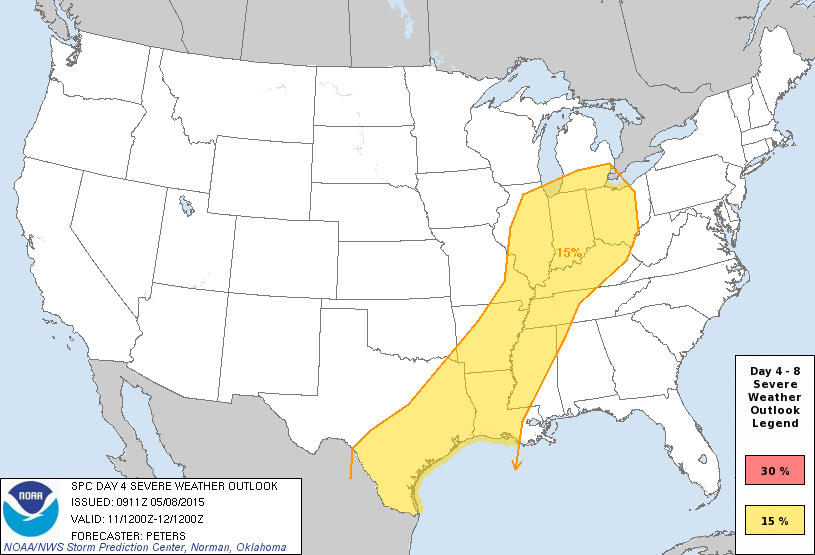 This is of concern as it is expected that a cold front will march our way, but with it still being four days out, anything could change. The NWSNashville has issued a HAZARDOUS WEATHER OUTLOOK for this possible storm system on Monday:
.DAYS TWO THROUGH SEVEN...SATURDAY THROUGH THURSDAY.

A COLD FRONT IS FORECAST TO PUSH INTO THE AREA ON MONDAY AND
MONDAY NIGHT...AND PRODUCE SCATTERED THUNDERSTORMS. A FEW OF THOSE
STORMS COULD BE STRONG WITH HEAVY DOWNPOURS AND GUSTY WINDS.
We will watch this over the weekend and see what impact it will have on our weather as we start the work week.
Extended Forecast

From weather.gov