Dry start to the week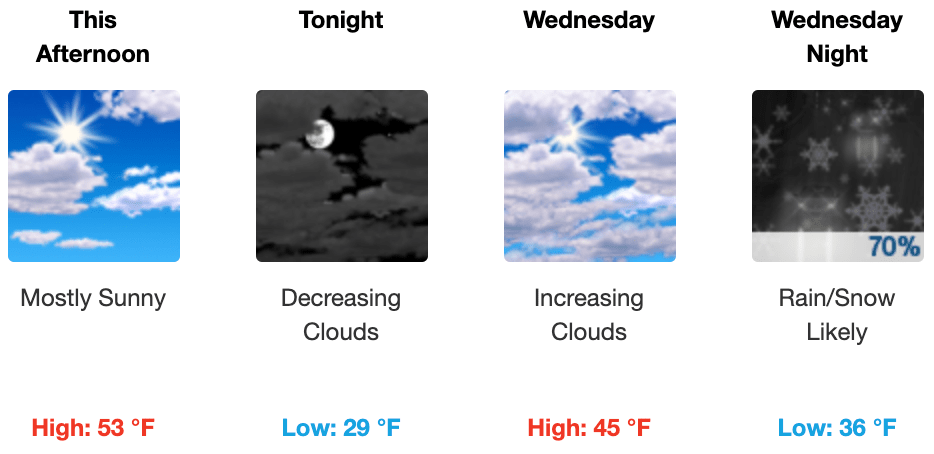 Not much going on weather wise to start this week. Today, expect mostly sunny skies with a high temp of 53 degrees. Temps fall overnight to 29 degrees.
Wednesday high temps only rebound to around 45 degrees as clouds increase across the area as the next rainmaker moves in to make Wednesday night rainy. Yeah, the above forecast calls for snow, but that's just not looking likely so don't get too excited there. Overnight lows will fall to 36 degrees and become increasingly wet after midnight.
After mid-week rain, we'll be ending the week dry into at least the first part of the weekend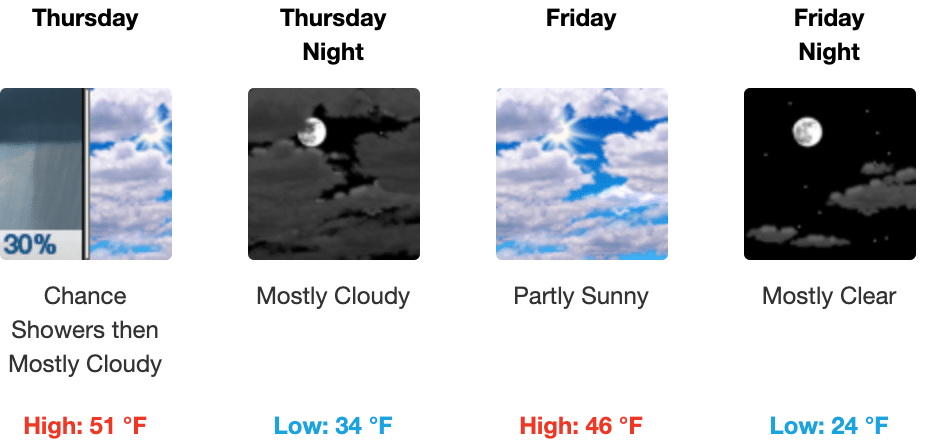 Rain starts to leave out of the area Thursday morning before lunch, with highs creeping up to 51 degrees. Thursday night we see our lows dip to 34 degrees.
Friday will be a bit cooler with a high temp only reaching 46 degrees, and overnight falling below freezing to 24 degrees.
Watching the next rain system that moves in on Sunday with maybe possible severe storms Monday
Rain moves back in on Sunday to cut our nice weekend outdoors short. However, weather nerds are watching that system as it could bring potential for the possibly of severe storms come Monday.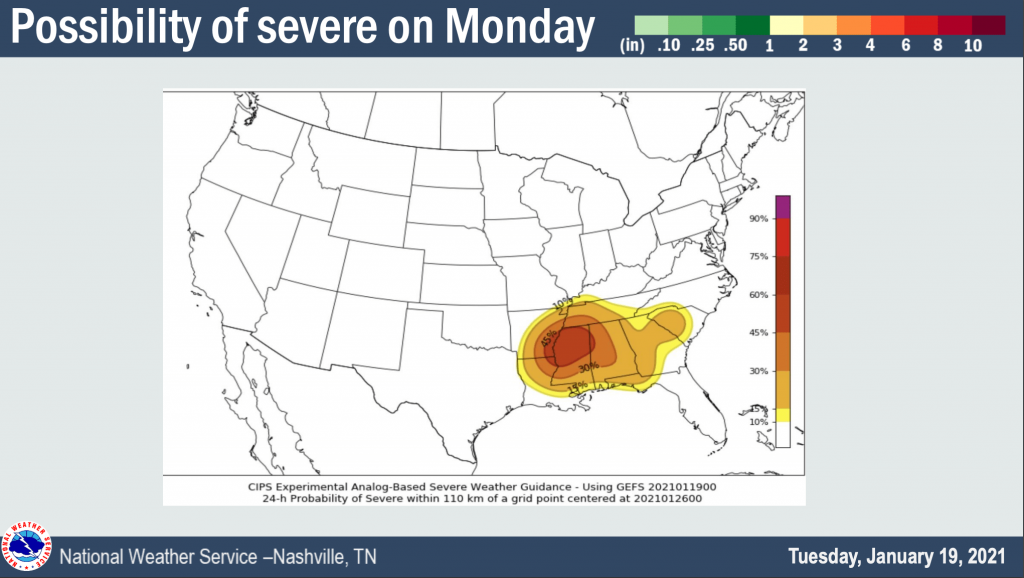 Latest information from NWSNashville is bringing to our attention the fact that we are on the outside of the center of possibility of severe weather on Monday.
The above shows Hickman County in the roughly 15% chance of seeing severe weather within roughly 70 miles of a point. It's important to note that this is just a guidance model, basically a "heads up" that something could be worth watching for Monday.
This is still too far out for the Storm Prediction Center to make note of it in their convective outlooks, but it's something we're going to watch as we get closer.
A brief poke around the weather models show disagreement (of course) on where the low pressure center will be for this system. The closer the low pressure center is for us, the lower the chance of severe weather. The further north the low pressure center is from us, the greater our chances could be for severe weather. Either way, stay tuned.