All about that snow, 'bout that snow.
It's January, so let's have another shot at seeing some of that white stuff. As I'm writing this, white flakes of snow are falling from the sky as an impressive low pressure system has moved into the area.
Models have been trending upwards in terms of more snow over the week, which means the white flakes falling now could become more plentiful and hang around to start our weekend.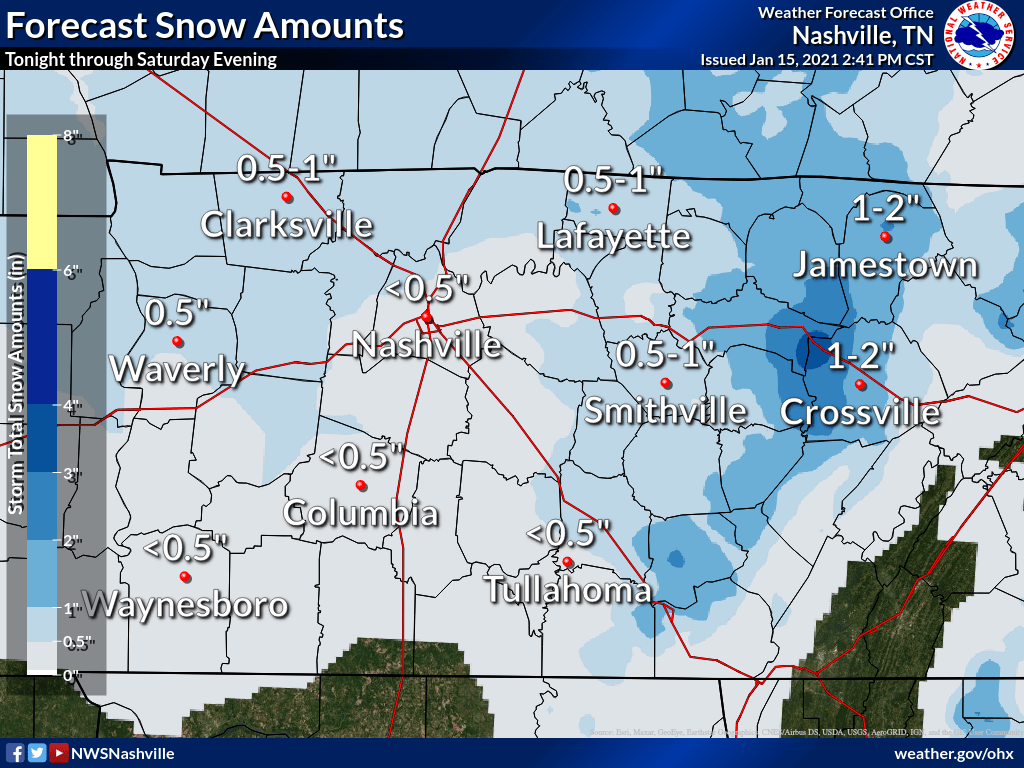 Depending on where you are in Hickman County, you could expect to see anywhere from zero inches up to 0.5 inches of snow accumulation on the ground from tonight's system through tomorrow mid-morning. This is below Winter Weather Advisory thresholds, of which the counties on the Plateau are benefitting from this evening.
Through tonight, expect to see moments of brief snowbursts that could cause visibility issues if you're driving. Depending on on where these occur, some areas may see more accumulation than others (on par with the last two snow makers in recent weeks).
How the forecast for snow could change
For the sake of it, I'm just going to straight copy and paste NWSNashville's exact wording in terms of the nuances and uncertainties this snow event could bring in terms of changing the current forecasted snow accumulations:
Additional moisture, along with longer duration of accumulating
snow earlier Friday night and further into Saturday morning, will increase confidence in higher snow totals.
If moisture trends downward with drier air moving in, or the snow begins later Friday night/ends earlier Saturday morning, snow totals will decrease.
Along with the nuances, NWSNashville gives us probabilities of what they think will likely happen. They give us a 2 out of 10 odds that we see no accumulation, a 3 out of 10 odds of seeing more than forecasted accumulations (current forecast is 0 to 0.5 inches).
Timing of snow arrival and accumulations
For the majority of the county, we can expect to see snow arriving between the 6pm and 9pm time frame. However, we are already seeing some flakes flying around before this window.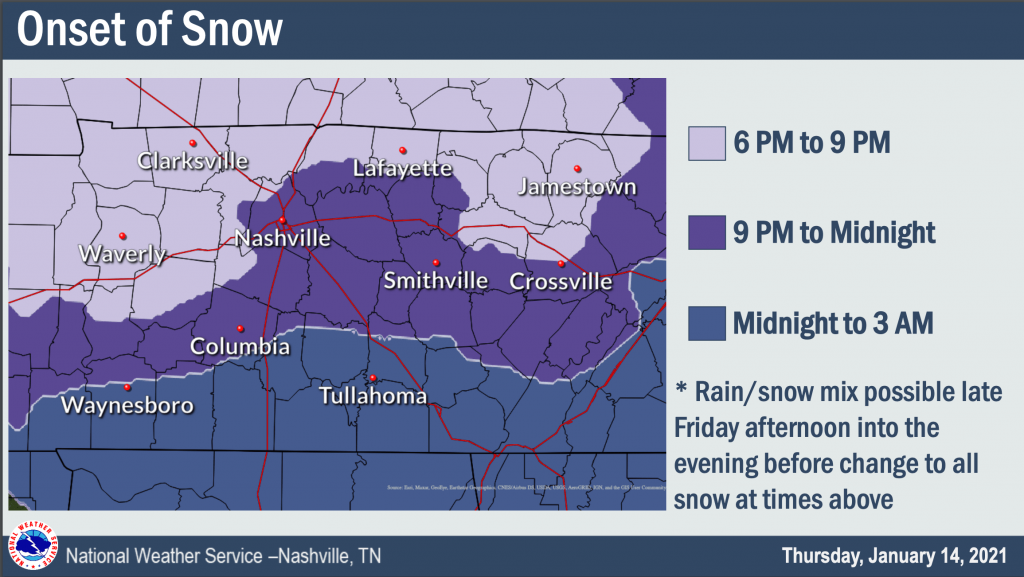 Weekend forecast
This snowmaker will move out of the area by midday Saturday opening the weekend to sunny and dry conditions. Saturday will be windy, with gusts up to 20mph as this system moves out.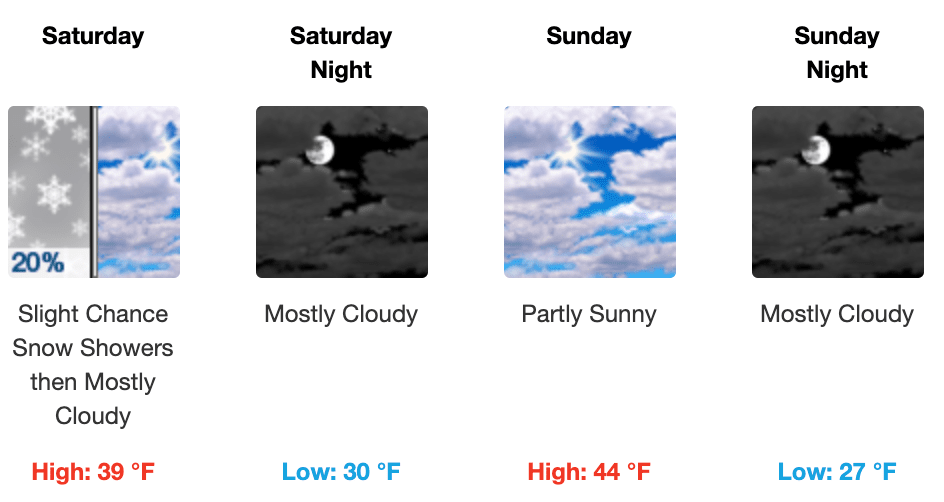 High temps on Saturday will be barely above freezing at 39 degrees, but with winds at 20mph gusting, it's gonna feel colder than that. Saturday night's low drops to 30 degrees, freezing enough to possibly cause a few icy patches on roadways if we get snow accumulations that melt during the day thanks to the sun.
Sunday warms up a bit more with a high temp of 44 degrees under mostly sunny skies. However, just like Saturday, Sunday will still be gusty with winds gusting to 25mph possible throughout the day. Sunday the low drops to 27 degrees.
The week starts of dry but rain (maybe snow again?) returns Tuesday and the rest of the week looks wet but above freezing.