Summary: Dry, warm, and muggy with minimal chances of rain for the next several days.
Today, our high temperature will climb to 92 degrees under sunny skies. Winds will be out of the southwest at 5 mph, bringing in warm moist air. At the time of this writing, our dewpoint is already 69 degrees, so it's going to be muggy today.
Our friends at @NashSevereWx put together this graphic for humidity and dew points.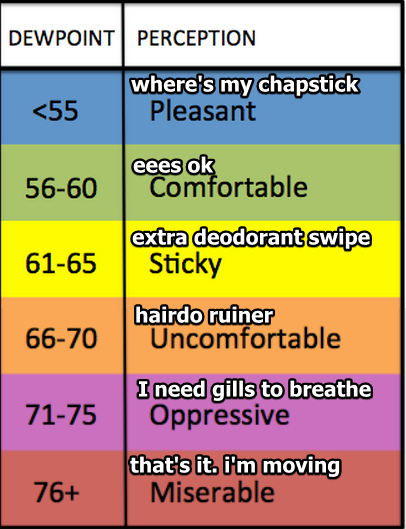 Keep this chart in mind throughout the summer when we talk about dew points with humidity. Anything over 60 is noticeable, anything over 70 makes things difficult.
No rain is expected today or tonight. Tonight, our temperature drops to 68 degrees under mostly clear skies. Winds will calm overnight as well.
Thursday brings a minor chance of rain.
A chance of afternoon showers return Thursday with a 20% chance of rain thanks to an approaching surface low. Our high temperature will climb to about 90 degrees. Winds will be coming out of the south at 5mph bringing in warm moist air for the low pressure system to work with.
The chance of rain is 20% because there are pop up showers expected with the heat of the day. Here's NAM4's simulated radar showing small pop showers throughout Middle Tennessee at 4pm tomorrow.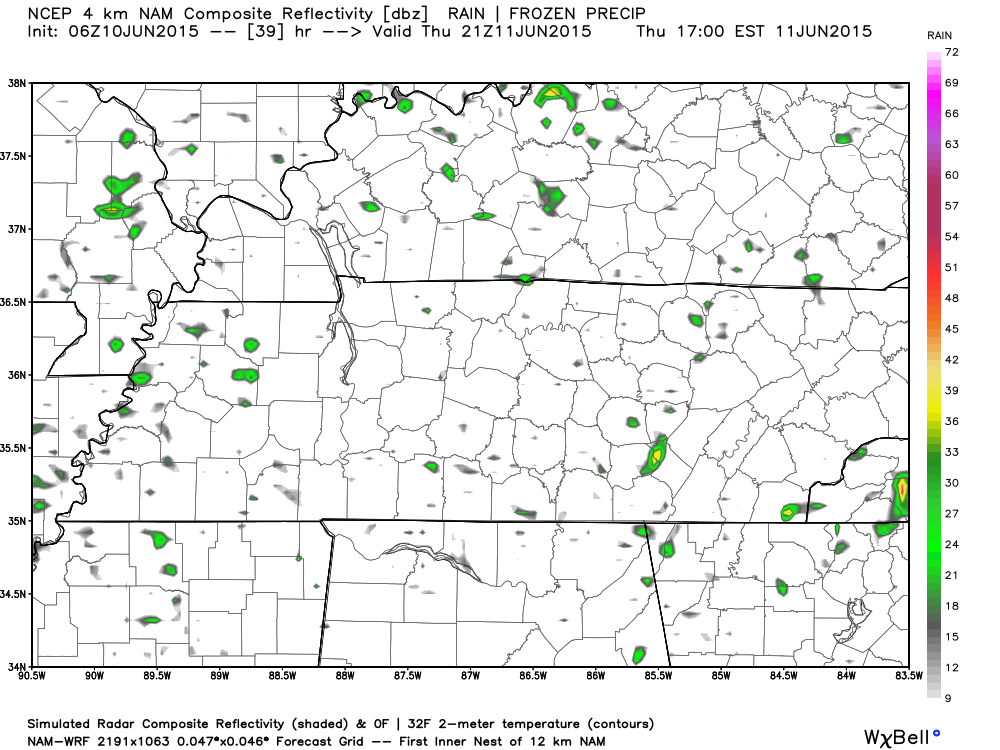 By Thursday night any rain that developed will dissipate leaving us with mostly cloudy skies and an overnight low of 70 degrees.
The weekend looks warm and somewhat dry
Friday starts with a 30% chance of rain and a high temperature reaching about 88 degrees. Winds become a bit more breezy coming out of the south southwest at 10 to 15 mph.
Rain chances drop for Friday night to 20% as the overnight low dips to 70 degrees. Winds will die back a little bit to 5 to 10 mph out of the south southwest.
Saturday we also will have a 30% chance of pop up showers and storms with a slightly cooler high temperature of about 87 degrees. Winds will continue to come out of the southwest at 10 mph.
Sunday sees another small rain chance at 20% with a high temperature of 88 degrees.
Extended Forecast

From weather.gov