Summary: Tropical Depression Bill influences our weather today and Saturday. Slightly cooler temps than earlier this week, but the heat returns for the work week.
Currently, Tropical Depression Bill is spinning over Arkansas and Missouri this morning and is heading closer to us, but the center of circulation will actually go through Kentucky.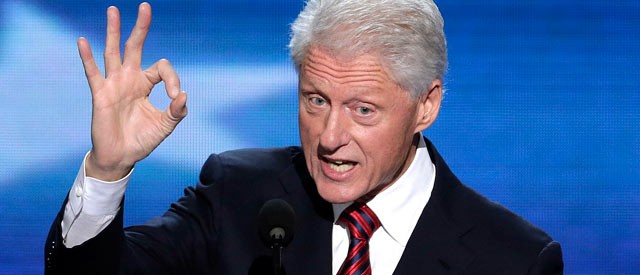 Not that Bill.
Here's how Tropical Depression Bill look like on radar as of this writing: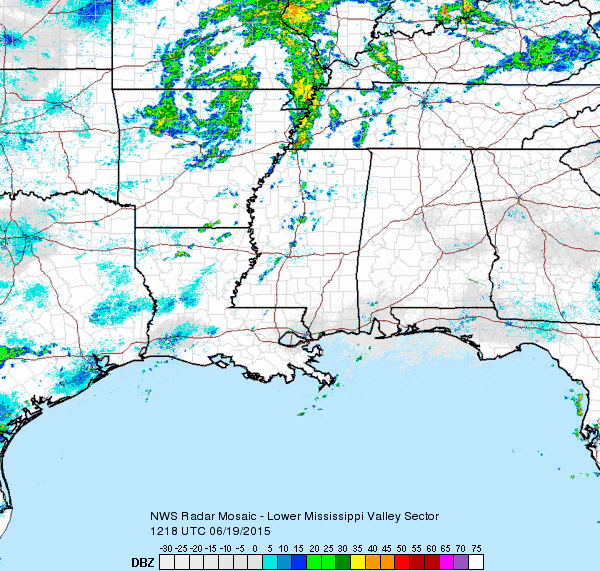 As you can see, Bill is starting to sling some rain showers our way and will likely impact our weather throughout the rest of today, mainly tonight, and into our Saturday.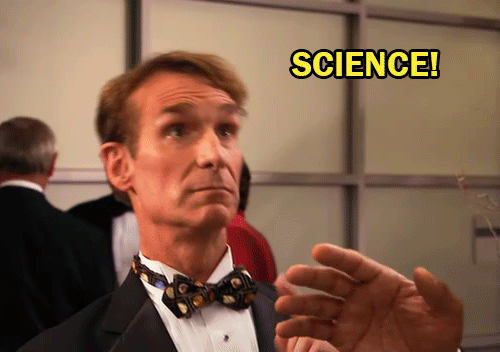 Nope not that Bill either.
For today, we have a 60% chance of rain and thunderstorms mainly after 1pm today as our high temperature will work its way up to about 87 degrees (a few degrees cooler than we've been used to this week). Winds are going to be a bit breezy today coming out of the south at 10 to 15 mph, with gusts as high as 20 mph.
Since Bill is spinning his way toward us, that spin in the atmosphere is the reason why the Storm Prediction Center has placed us under a MARGINAL risk of severe weather from 8am today through 7am tomorrow with the concern being damaging winds and an isolated tornado.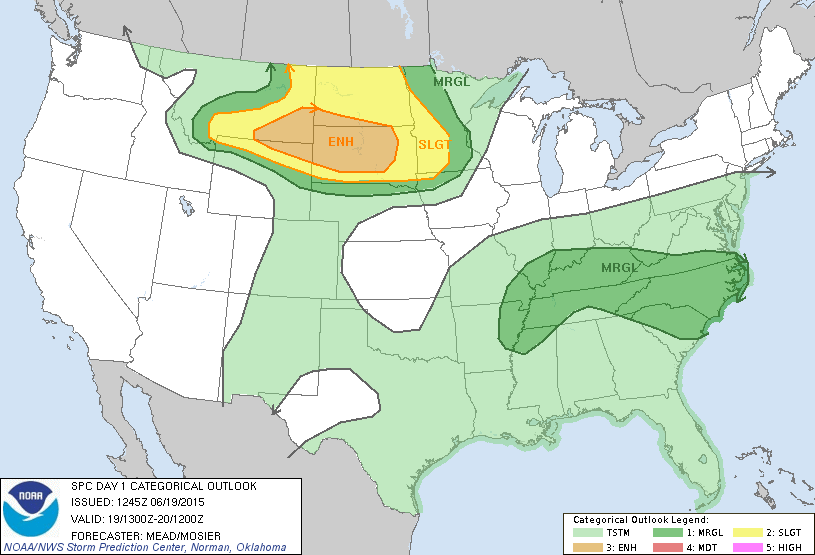 Specifically, they have placed us in a 5% chance of seeing damaging winds within 25 miles of a point (first graphic below), and a 2% chance of seeing a tornado within 25 miles of a point (second graphic below).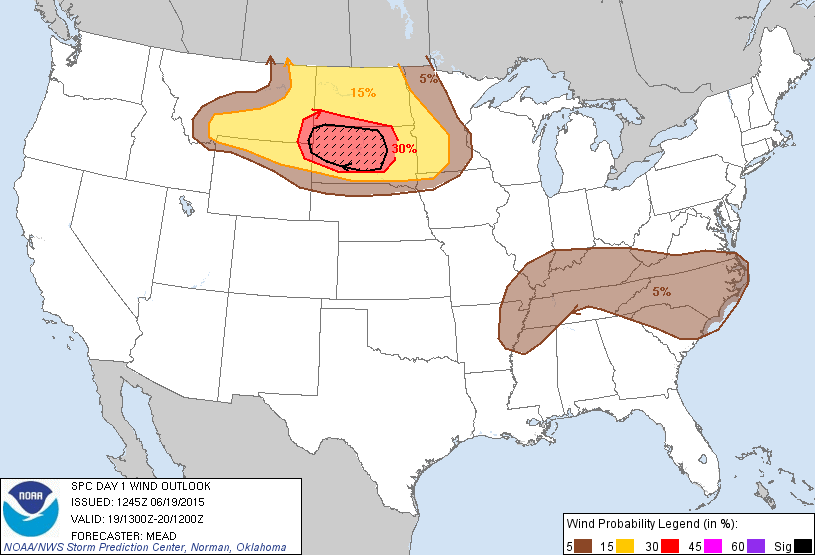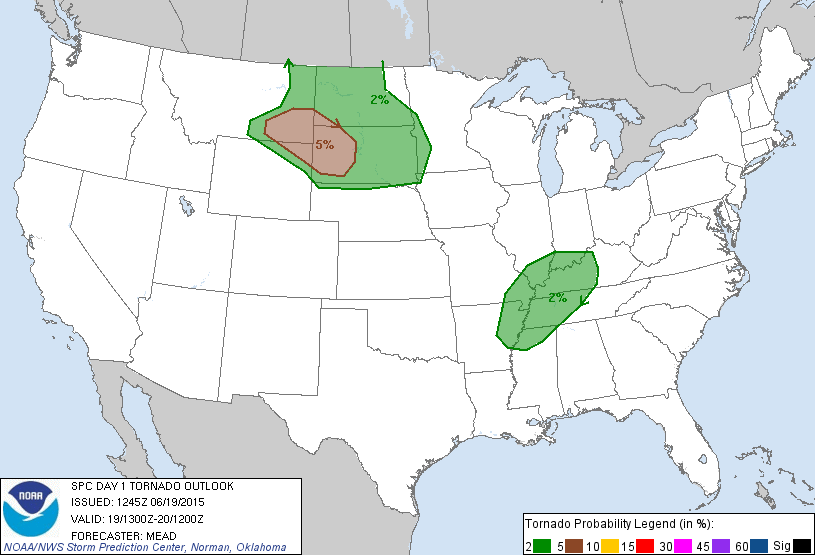 The SPC is putting that slight tornado probability in there because Bill is a spinning system, causing the winds to spin around and could, although not likely, produce a weak tornado.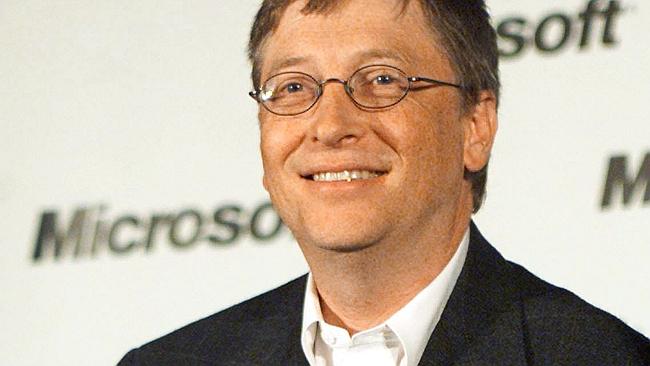 Sorry, not that Bill either.
Here's the SPC words (particularly the last sentence that we've underlined for emphasis).
...MID SOUTH / LOWER OH AND TN VALLEYS THIS AFTERNOON/EVENING...

   DAYTIME HEATING AND THE RESULTANT DESTABILIZATION OF A VERY MOIST
   AIR MASS WILL INTERACT WITH A BELT OF FORCING FOR ASCENT PRECEDING
   THE DEEP-LAYER CYCLONE TO FOSTER MULTIPLE ARCING BANDS OF CONVECTION
   WHICH WILL SPREAD EWD ACROSS THE REGION LATER TODAY.  STEEPENING
   LOW-LEVEL LAPSE RATES COUPLED WITH A MODESTLY STRONG LOW- TO
   MID-LEVEL FLOW FIELD 

WILL YIELD AN ENVIRONMENT SUPPORTIVE OF


   

EPISODIC STORM ORGANIZATION AND A RELATED RISK FOR LOCALLY DAMAGING


   

WINDS AND PERHAPS A BRIEF TORNADO OR TWO

.
While the wind threat is something to watch out for, any tornado that could develop will be brief and isolated. NWSNashville is most concerned with wind damage possibilities and some localized flooding, as they have stated in their HAZARDOUS WEATHER OUTLOOK for today and tonight:
.DAY ONE...TODAY AND TONIGHT

A FEW STRONG TO POTENTIALLY SEVERE THUNDERSTORMS WILL BE POSSIBLE
MAINLY THIS AFTERNOON THROUGH TONIGHT ACROSS MIDDLE TENNESSEE. THE
MAIN HAZARDS WILL BE WIND GUSTS UP TO 60MPH AND HEAVY RAINFALL
CAUSING LOCALIZED FLOODING.
Rain chances increase to 90% tonight with an overnight low of 71 degrees.
Let's look at how the models are predicting today's storm chances. The HRRR model (short range rapid refresh model) is showing a couple of bands of rain showers starting for us at about 2pm today.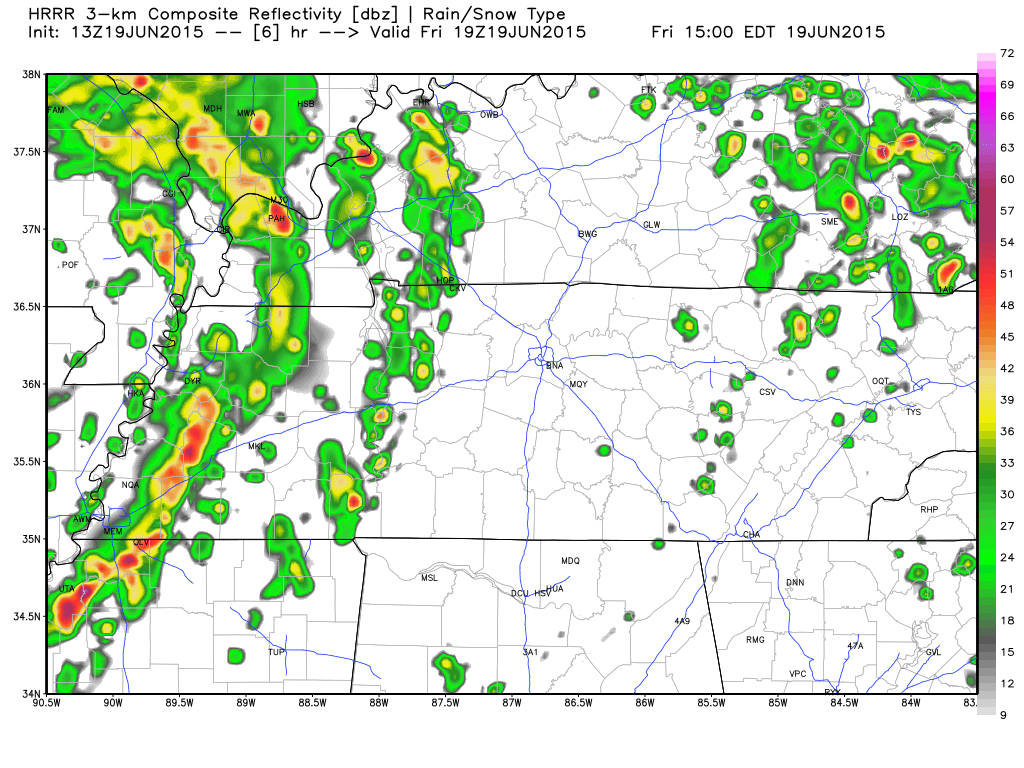 After the first band moves through, the second band comes behind it at about 5pm today.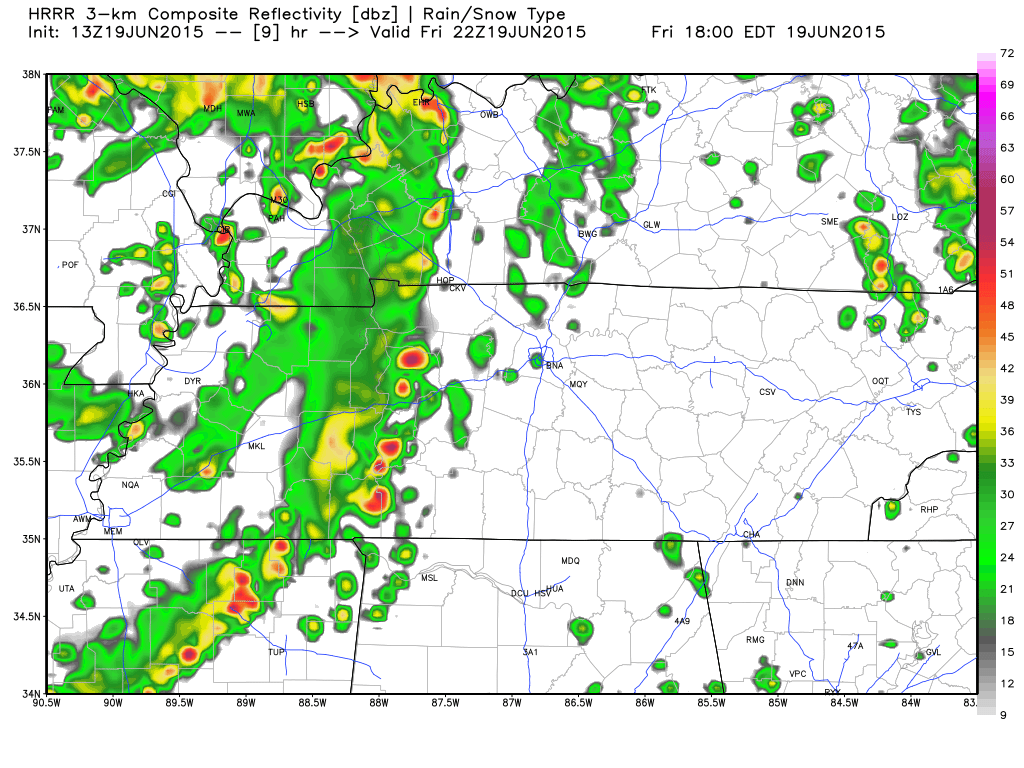 Another band is likely to bring some more rain around 11pm tonight as well.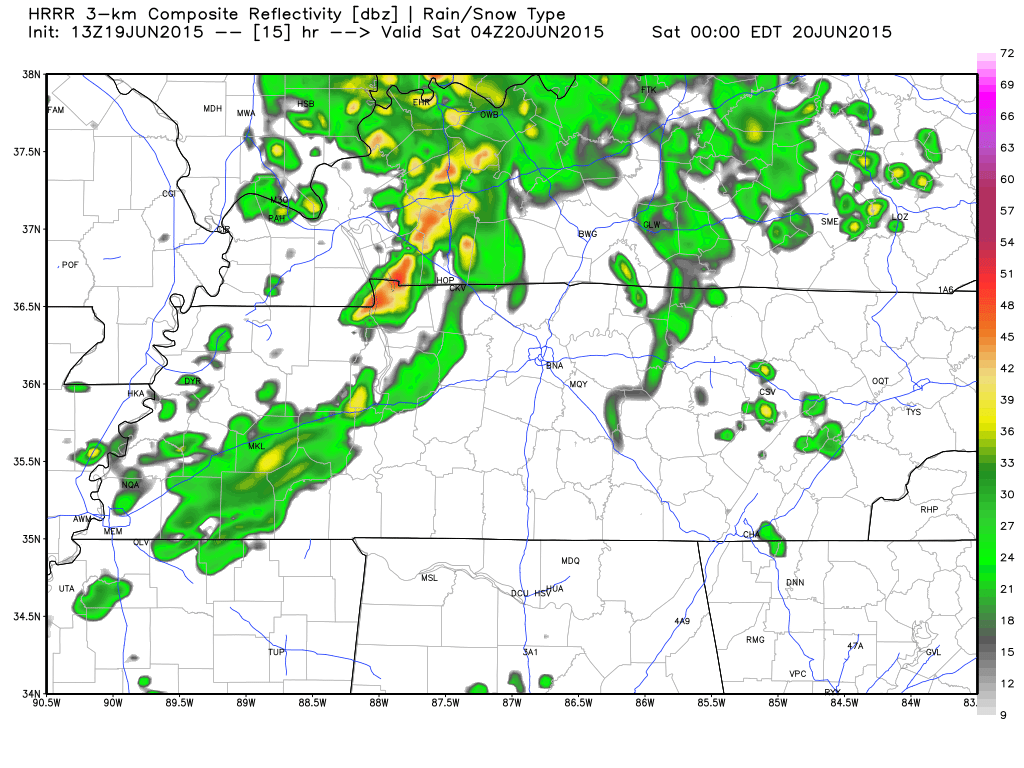 The exact timing of these bands could be a bit slower or faster depending on how quick Bill wants to make a visit to Kentucky. It's also worth noting that the models don't agree either on rain chances.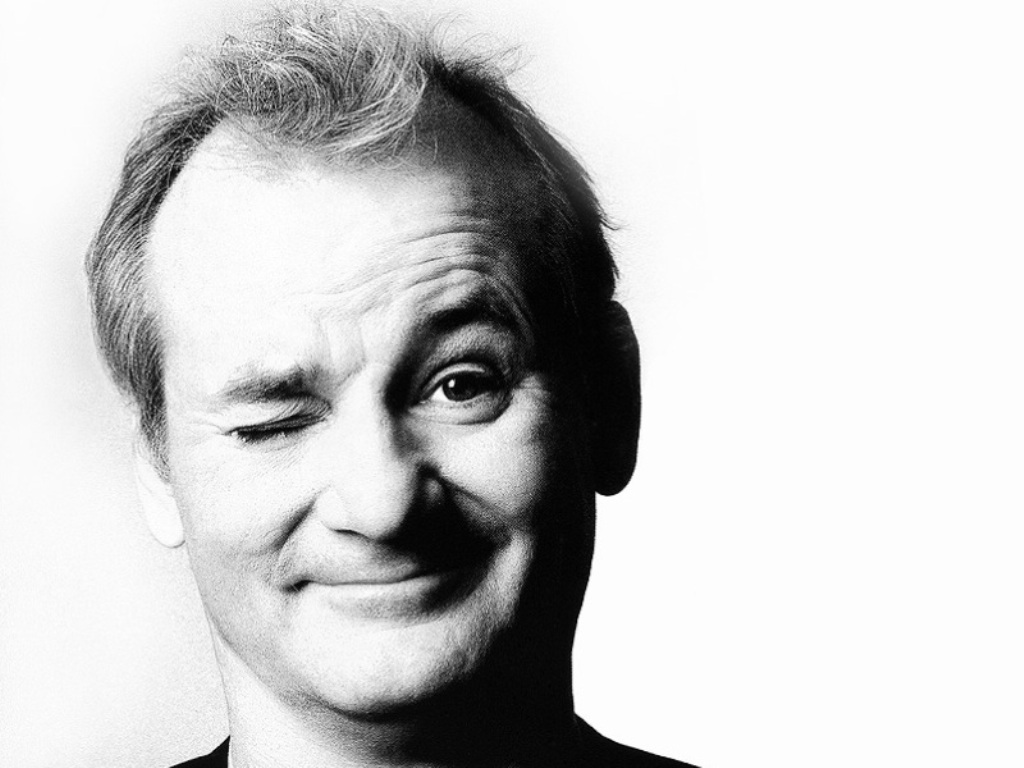 Not talking about that Bill either.
Here's NAM4's simulated radar, which shows one solid band coming in around 8pm tonight, with a slight chance this could yield a severe storm or two.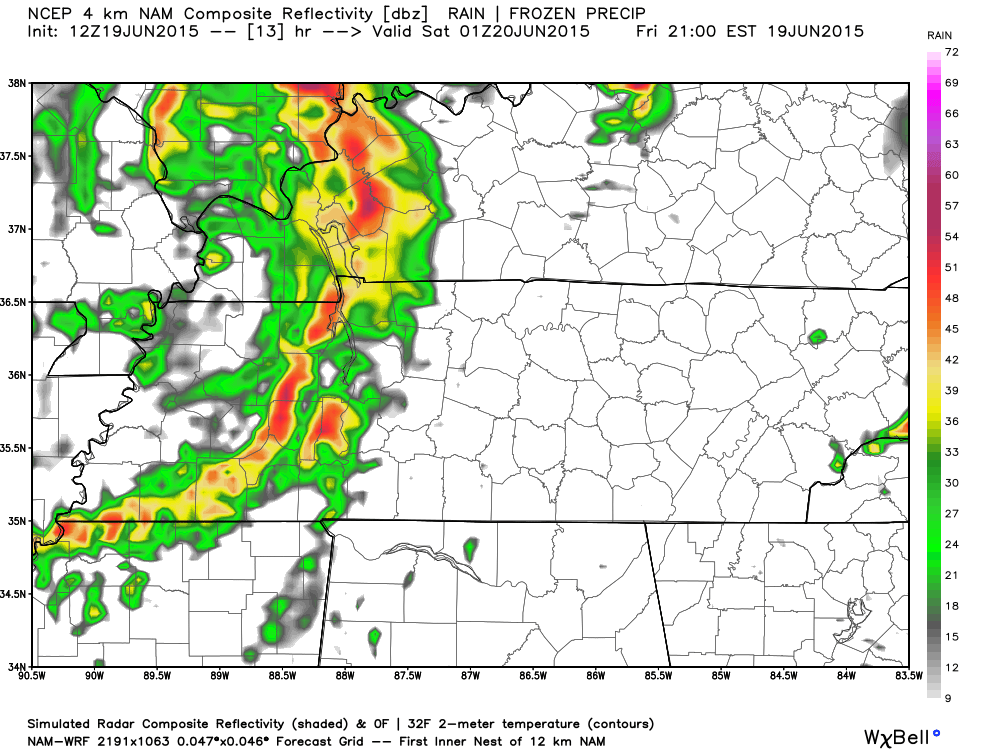 Here's NAM4's simulated radar for 11pm as well.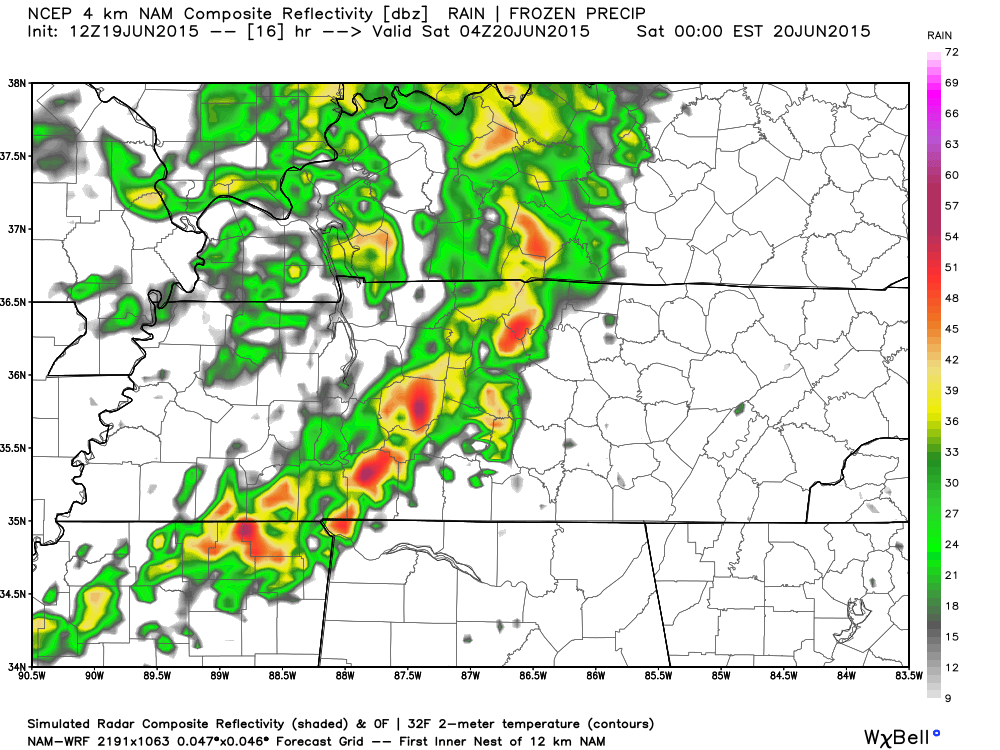 The best plan of action today is to realize there are likely to be rain showers in the early afternoon through the overnight hours. Be prepared for whatever Bill wants to bring us in terms of rain and a very slight chance of severe weather.
Saturday see's Bill's leftovers.
We will be seeing more of Bill on Saturday, as we will likely wake up to a few spotty showers in the morning. We will see a 60% chance of rain and storms for Saturday as our high temperatures works up to about 86 degrees. The 60% chance of rain is mainly for the showers and storms that will work to clear themselves out overnight.
NAM4's simulated radar shows very spotty showers as we get up tomorrow at 6am.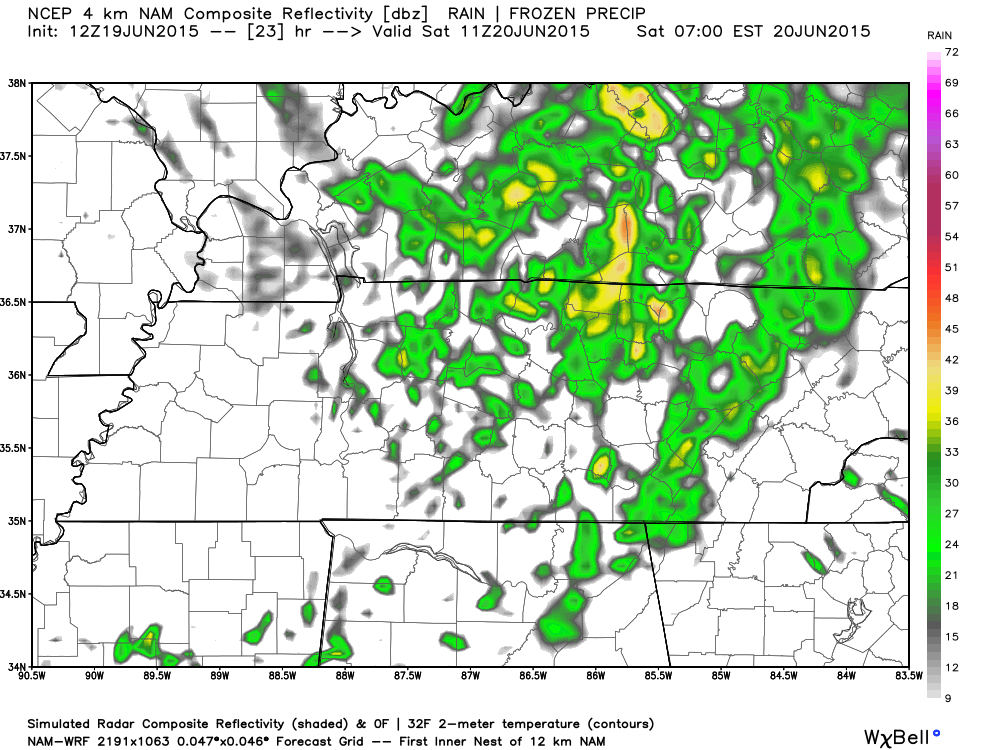 Saturday doesn't appear to be a washout, but since this isn't a typical cold-front system, once Bill moves out, we could still see a pop up shower or two from daytime heating.
Father's Day will be dry and hot
Sunday things dry up a bit under sunny skies and a high temperature of about 92 degrees. The winds will be a bit breezy at 10 to 15 mph out of the west southwest.
Because the high temp will reach into the lower 90's, heat index values are going to be around 100. This means you should pay extra attention to your exposure to the heat and sun, drink plenty of fluids, and limit being outdoors especially around 12-4pm.
Early warning: The heat wave is back and even worse for the start of the work week.
Unfortunately, the heat wave returns to start our work week as Monday there is a forecasted 95 degrees and Tuesday and Wednesday see a high temperature of 96 degrees. NWSNashville is concerned about this and has issued a HAZARDOUS WEATHER OUTLOOK for the high temps:
.DAYS TWO THROUGH SEVEN...SATURDAY THROUGH THURSDAY

DANGEROUS HEAT INDEX VALUES...BETWEEN 100 AND 105 DEGREES...WILL BE 
POSSIBLE ACROSS MOST OF MIDDLE TENNESSEE EACH AFTERNOON SUNDAY 
THROUGH WEDNESDAY.
These heat index values are nothing to mess with. Limit your outdoor activities and stay hydrated. Don't leave your pets or kids inside parked cars or enclosed areas with no air conditioning.
Here's some more tips provided by NWSNashville on how to stay safe in the extreme heat.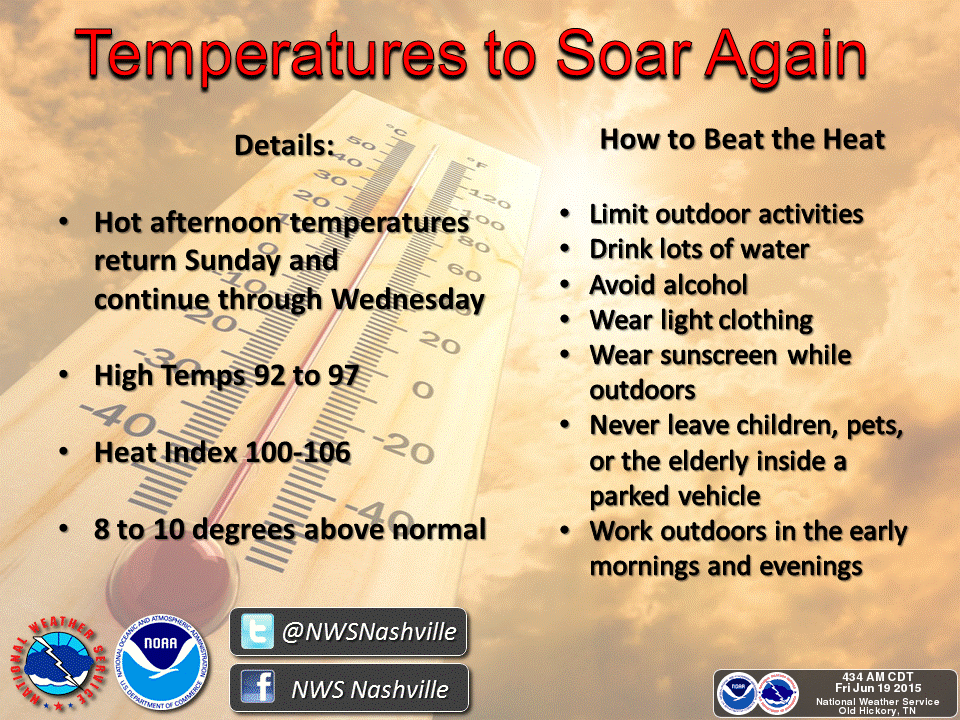 Extended Forecast

From weather.gov