Summary: Last day in the 80's for a while. Tomorrow evening brings a cold front and some storms possible. Fall returns Saturday before warming up slightly to the mid 70's.
Today is the last day of 80+ degree high temps for a little while it seems. If you like the warm weather, enjoy today while you can! If you like fall-like weather, then the next week will be perfect for you.
Today, expect our high temperature to reach about 86 degrees under mostly cloudy skies. Winds are coming out of the south southeast at 5 mph but will change over to west southwest in the afternoon.
While there is no official rain chance for today, models are showing that there could be one or two small showers pop up during the day today, but they will be very few and far between.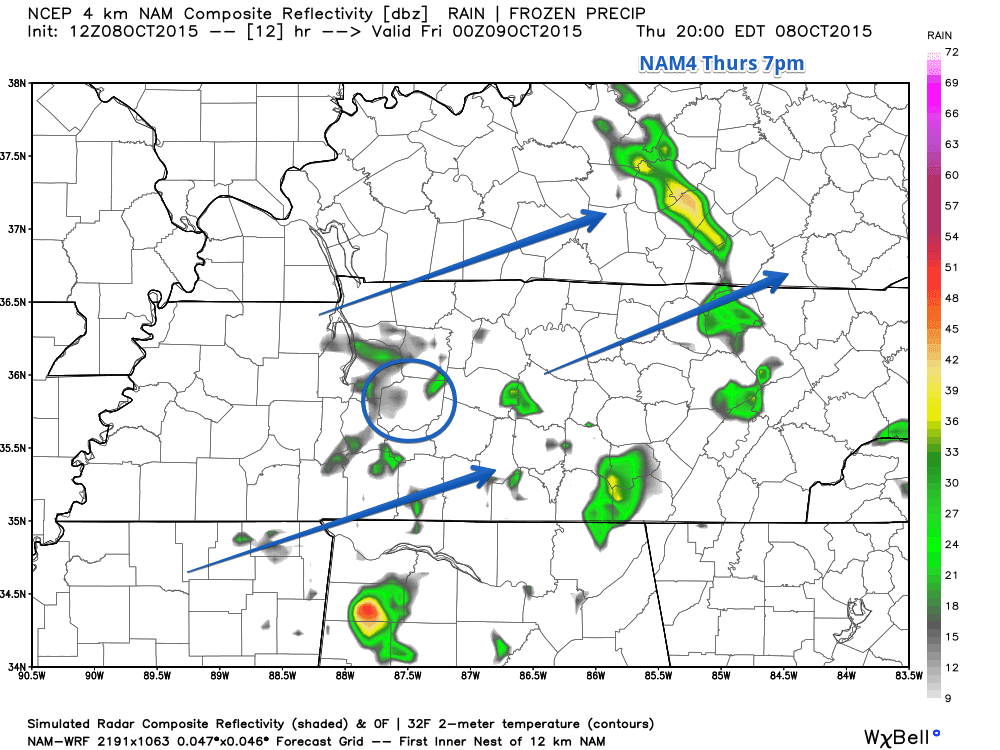 Overnight, our temps will drop to a mild 63 degrees with calm winds.
Friday, October 9
For Friday, our rain chances dramatically increase to 70% as we await a cold front that is expected to move through Friday afternoon and evening. Our high temperature will climb to about 80 degrees before the cold front knocks our temps down overnight.
It won't be raining all of the day Friday, but there will be some spotty chances throughout the day until the cold front arrives during the late afternoon and evening hours.
Often in Tennessee, cold fronts means severe weather. So far, this cold front isn't expected to bring wide-spread severe weather, but could have a thunderstorm or two in it, and some of those could be strong. The Storm Prediction Center has us under a general thunderstorm outlook for Friday (a 0.5 on a scale of 0 to 5).
We will likely start seeing rain around lunchtime but before the main cold front arrives. Here's NAM4's simulated radar for 1pm Friday.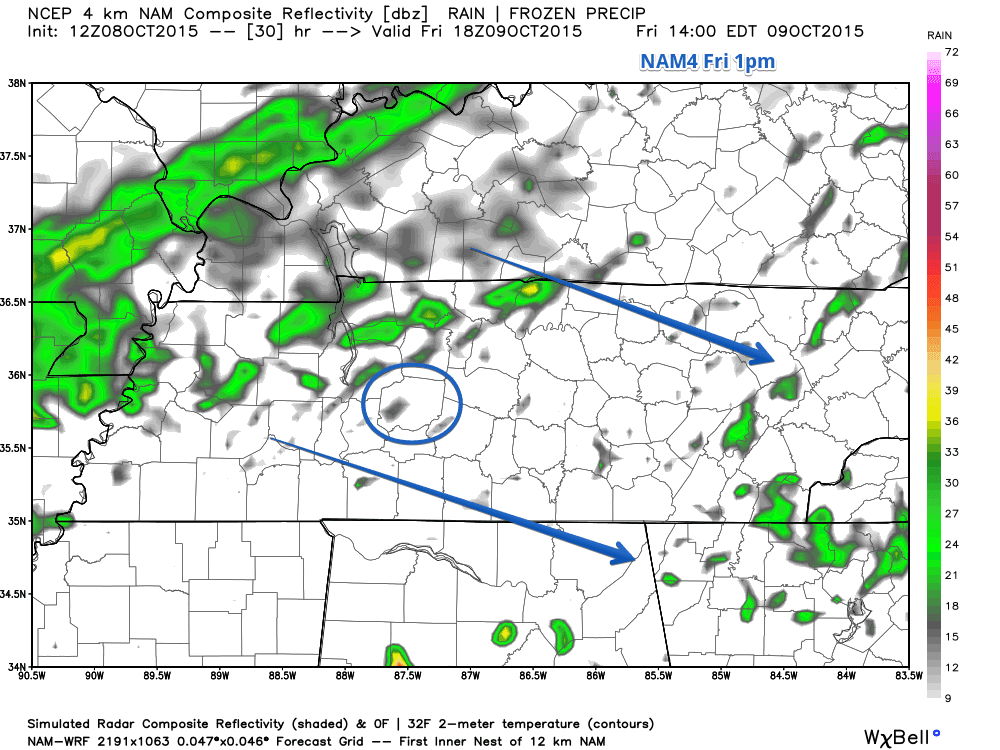 It looks like the cold front will strengthen right before making its way to Hickman County. Here's NAM4's simulated radar at 3pm, showing the line of storms (line drawn from bottom left to top right).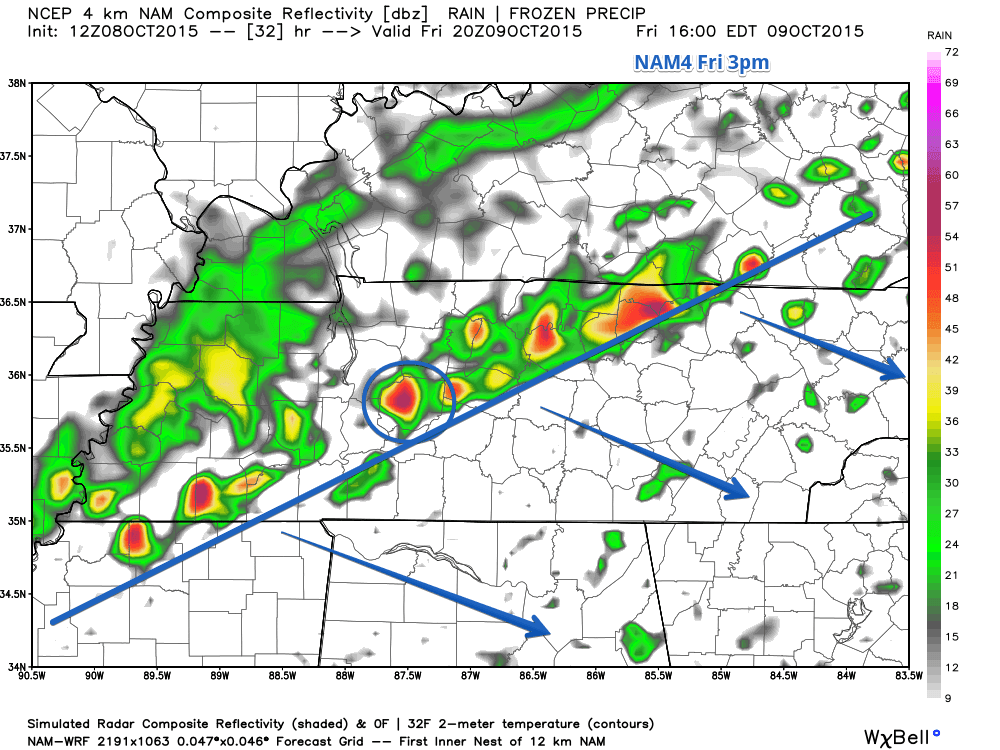 It's important to note that the location of those more intense storm areas (reds and dark reds) are not exact. So the large red/dark red cell right in the middle of the county is just an estimation and doesn't mean we are going to get a severe thunderstorm right there.
We aren't expecting wide-spread severe weather, but these storms could strengthen enough to be considered strong, and one or two may even warrant a warning.
After the main part of the storms move through Hickman County, there will be scattered showers on the backend as the cold front moves toward the southeast. Here's NAM4's simulated radar for 4pm.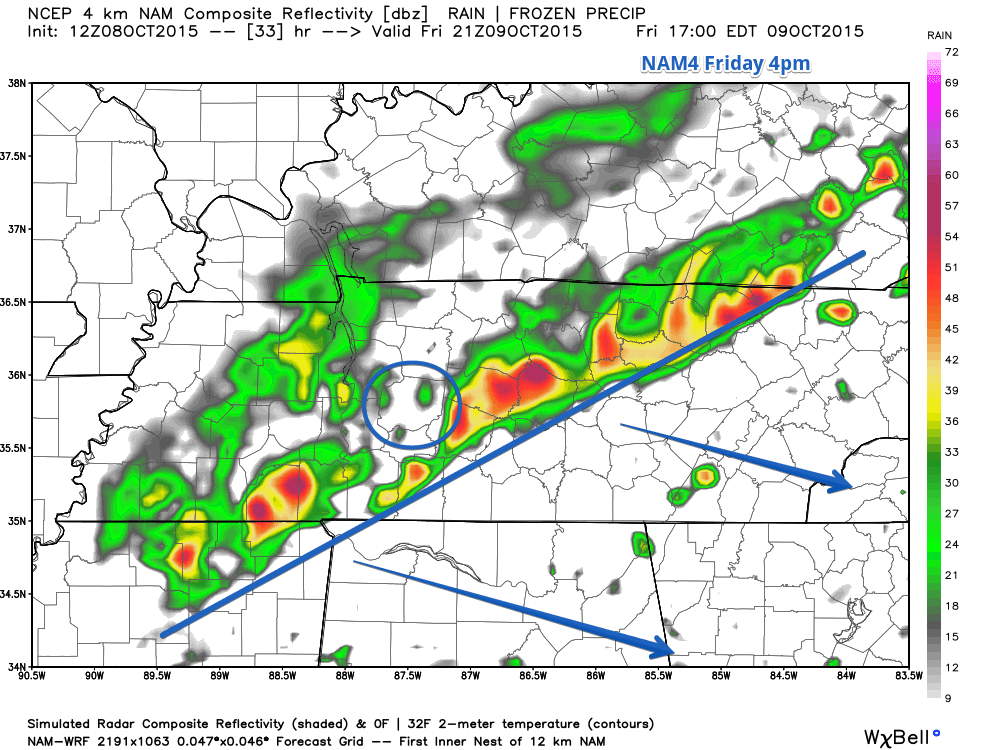 NAM4 is showing that the rain should be mostly out of here in time for any in-county games and outdoor activities at 7pm.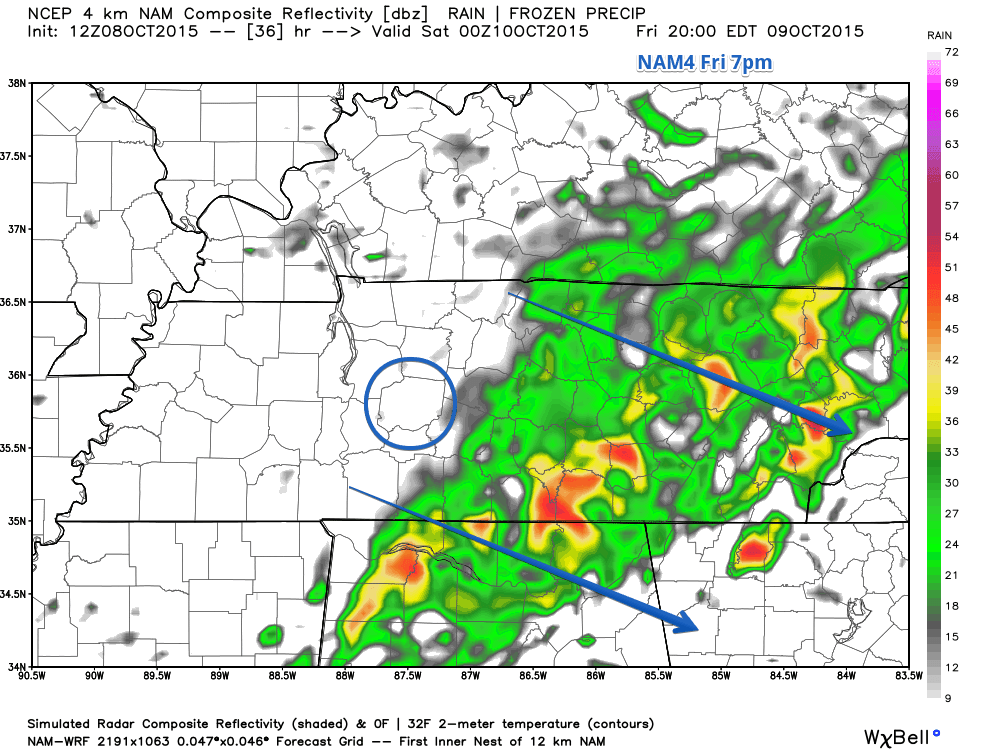 Saturday, October 10
Saturday will be dry and almost 20 degrees cooler than today (Thursday), with our high temperature barely reaching 68 degrees under mostly sunny skies. It will feel a bit cooler than that because winds will be coming out of the north at 5 to 10 mph.
Saturday night overnight will be chilly with temps dropping to about 47 degrees. Winds will also start to calm down as well.
Sunday, October 11
Temperatures rebound slightly going into Sunday. The high temperature is expected to reach 74 degrees under sunny skies. Winds will gradually change and start coming out of the southwest at 5 mph.
Upcoming work week
The upcoming work week will see temperatures in the mid to upper 70's for highs, with lows in the upper 40's and lower 50's. Tuesday sees a cooler temperature in the low 70's. Through Wednesday there doesn't appear to be a chance of rain.
Extended Temperature Forecast
After Friday's cold front, temperatures will rebound into the mid to upper 70's then slowly drop a degree or two every day through the next 16 days.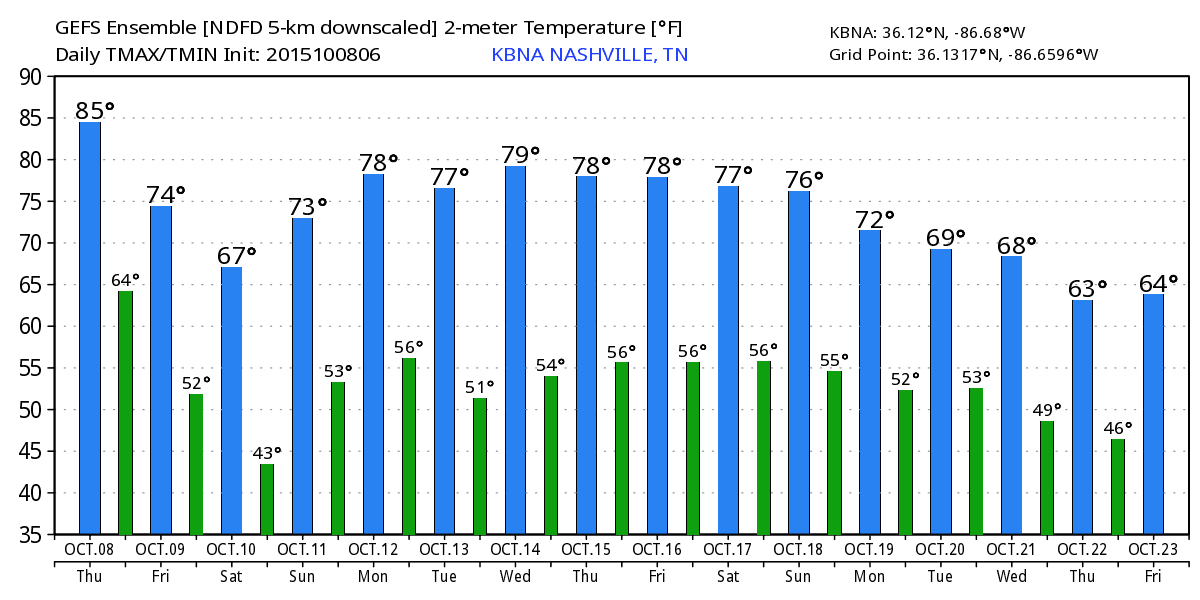 Extended Forecast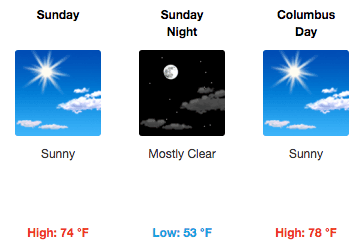 From weather.gov