As we've been saying all along, forecasts can and do change, often multiple times before an event takes place.
This forecast is no different. And this forecast has changed a bit (again). More on forecast changes and my rant at the end.

Current forecast for Sunday: Winter Storm Warning in effect from 12am Sunday to 6pm Sunday. NWSNashville is forecasting 3-4 inches of snow for Hickman County on Sunday, starting around the 3am (give or take) timeframe and ending by dusk (give or take) timeframe. Note the date/time of the map in the top right hand corner. SUBJECT TO CHANGE.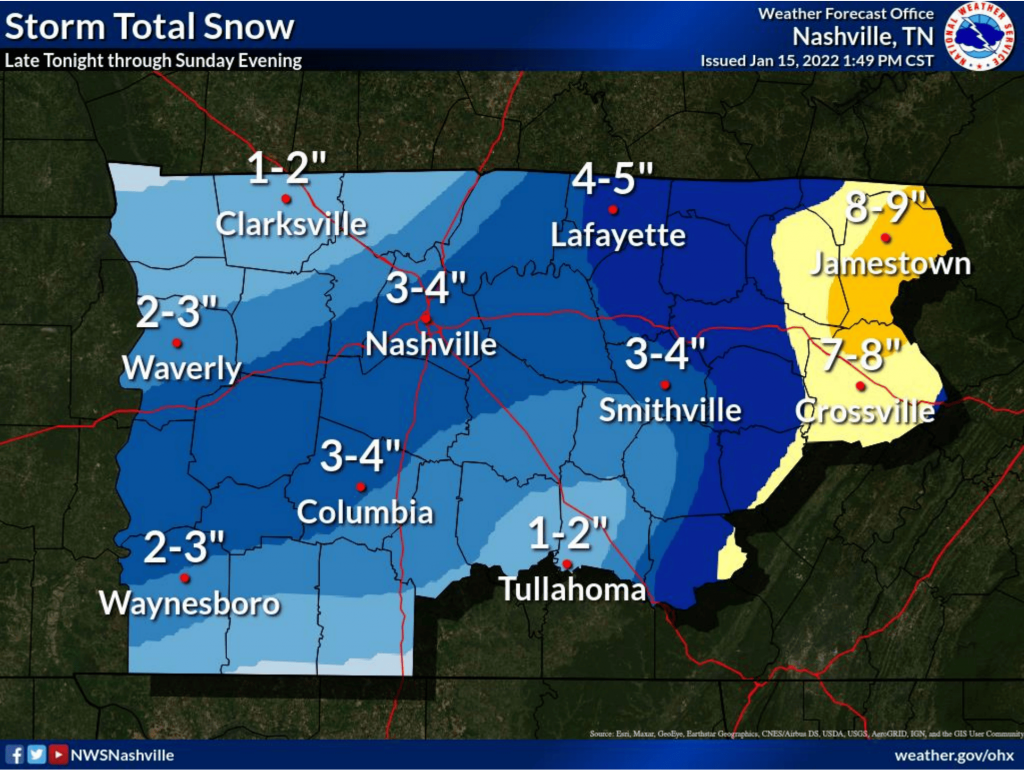 Observant followers are noticing this is slightly less than previous snow total maps I've been sharing. This is because recent models have indicated warmer air possible through the day on Sunday, reducing the accumulation a tad thanks to possible mix precipitation at times. Our high temp is forecasted to be 34 degrees. More on that below.
Significant travel impacts are expected before daybreak Sunday through at least Tuesday afternoon. Monday is expected to warm to just above freezing, but with cloud cover, we don't anticipate much in the way of improvement on the roadways until Tuesday lunchtime.

Because this is going to be a wet, heavy snow, and some mixed precipitation is now expected thanks to warmer air, there could be some spotty/scattered power outages during the heaviest parts of this snow event.
NWSNashville is saying models are hinting at those south of I-40 seeing possibly heavy snowfall at times, up to 2+ inches of snow *per hour* snow rates. So it's very possible enough things line up just right to dump snow across areas south of I-40.

Between the warmer air fluctuating by a degree or two and the placement of the heaviest snow could change the forecast greatly, NWSNashville has said this, "The shifting of either of these phenomena could cause significant differences in snowfall totals from one area to another in a span of only 25 miles." That means you could be seeing very little while someone just 20 miles away could be seeing a lot (or visa versa).

Now you may be wondering, "How can it snow and accumulate if the temperature is above freezing?" Those who have lived in TN for any length of time have likely said before "I've seen it snow and accumulate at 38 degrees before!"
And they are both right. It can snow and accumulate with temps above freezing. How?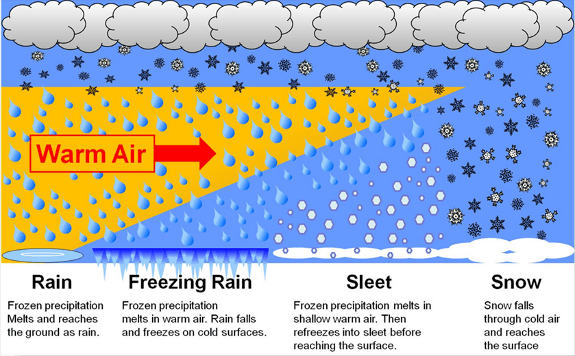 The sky above us will be cold all the way up to space, except for about 1,000 feet or so above our heads to the ground. From that 1k foot level down to the ground is where it may be a couple of degrees warmer. In most cases, when snow falls through the warm air, it's no longer snow. It turns either into rain (like we are seeing right now – Saturday night), freezing rain, or sleet. This helpful graphic explains.
However, If it snows heavy enough at times (like what is being forecasted), that snow can actually "cool" the air as it falls to the ground. This will keep the snow protected in its original form and allow it to accumulate on the ground even though the temps will be above freezing.
Now let's talk about forecasts and human behavior (aka my rant).
We as humans like concrete answers. We like certainty, absolutes, black and white. Rarely in life is anything any of those adjectives.
Weather is hard. Predicting future events that we have no control over is hard. Just ask anyone who has ever had to make a prediction about who's going to win the Super Bowl at the beginning, middle, and end of a season. It's difficult, and their prediction is likely to change as the season progresses.

We constantly say forecasts can and do change because, as with anything in life, when we're presented with new information, it changes things. That's what happened here (multiple times): new information was presented (new models, warmer air, timing), and it changed things.
Forecasts always do change, even on the sunny days. We just *perceive* forecast changes and notice them more on high-impact forecasts (severe weather and winter weather).

When forecasts "don't verify" (aka bust) on a sunny day (i.e. warmer than anticipated for example), we don't know about it because we didn't pay that close attention to the forecast because (in most cases) it wouldn't affect us if it's wrong.

For significant events, like severe weather and winter weather, when forecasts "don't verify" (i.e. don't produce tornadoes or doesn't snow as much as we thought), we notice this because we paid way more attention to these events because they were going to impact us more if they happened (which is why we call them high-impact events).
This is why we constantly stress that forecasts are subject to change. We say this for severe weather. We say this for winter weather. But this is true even on "mild" weather days. We just notice them more when they are more likely to impact our daily life (severe weather and winter weather).

We stress that forecasts are subject to change because we know human behavior wants us to have, in this case, one snow total map to take to the bank. Human behavior wants us to see the map once and then look out our window for that exact amount on the ground.

Our role here is to acknowledge this human behavior and help make y'all better humans by stressing that the forecast is going to change. We want you to be prepared and informed. We don't want your human instinct to take one snow total map and take it to the bank. We want you to know things can and do change and to seek updates frequently.
So if tomorrow ends up with less snow on the ground than the map above (or any map) has indicated, you can respond with "Oh yeah, HickmanSevereWx and NWSNashville said this was a possibility because of [insert latest forecast element here]" instead of "those weather people don't know what they're talking about, they hyped it for nothing, yada yada yada."

Latest updates to this forecast will be found on Twitter @HickmanSevereWx.